Deer of the Day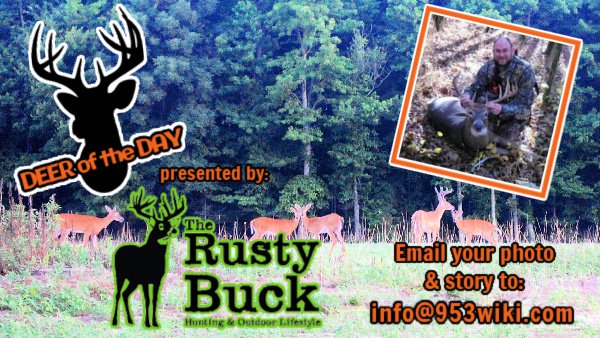 Deer of the Day has arrived in WIKI Country!
Buck or doe. Shotgun or bow. We are welcoming everybody's nominations for the WIKI Country 95.3 Deer of the Day, presented by The Rusty Buck in Versailles
All your hunting, fishing and archery needs in one location. Call Joe or Aaron today and follow them on facebook. click here to visit their page
Regarding Deer of the Day contest- submitted photos entered to win the Grand Prize! A $100 Gift Certificate to The Rusty Buck!!
WIKI Country's BEST and ORIGINAL deer photo contest is giving our listeners the chance to show off their prized whitetail harvested during the 2020-21 hunting season. Each day, we'll publish on this page a photo and story submitted by a listener. Kacie, Bubba Bo, and/or Elliot will share your successful hunting story with our listeners on WIKI Country 953FM!
We are welcoming your nominations now through December 31, 2020! There are some simple rules to follow:
Email your medium to high resolution photo in JPEG or GIF file format to info@953wiki.com . Please include your name, city of residence, and location of the harvest along with a one paragraph story detailing your successful hunt.
Keep your photo and story tasteful. Photos showing too much blood and/or guts won't be considered (yuck!).
The deer shown must have been hunted legally and ethically during the 2020 bow, firearms, muzzleloader, or youth hunting season in local areas of Indiana, Ohio, or Kentucky.
November 2, 2020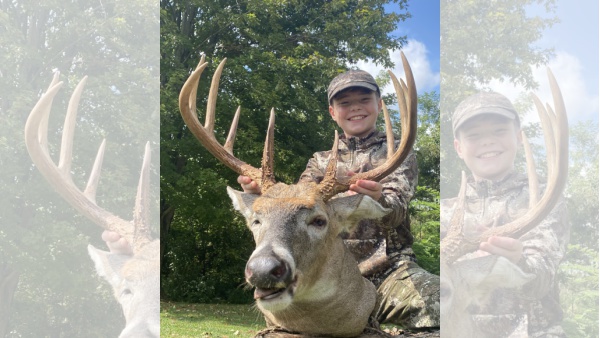 Youth season weekend of 2020 will be one that 13 year old Colton Chandler will remember for a lifetime and a story he tells for generations. Since then, I have been contacted and gotten the opportunity to meet some great people including scorers from "Buckmasters" and "Hoosier Whitetail Record Book." To score my buck that I named "Brow tines" because of his obviously tall brow tines.
November 3, 2020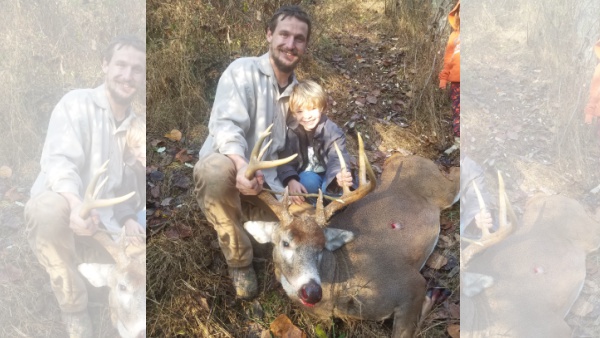 Kevin Royalty of Madison Indiana killed this big guy near Brooksburg at 7:30am November 1st 2020. He rattled and grunted him in and shot him with a crossbow. (he didn't go 20)
November 4, 2020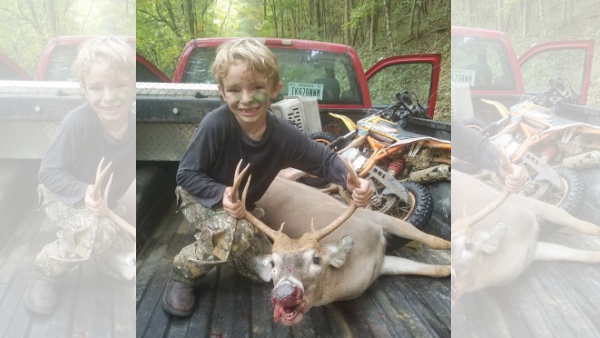 Hunter Royalty shot this buck on Sept 27th at 9am Sunday of youth weekend in Manville Indiana. It was his first deer shot with a 44mag
November 9, 2020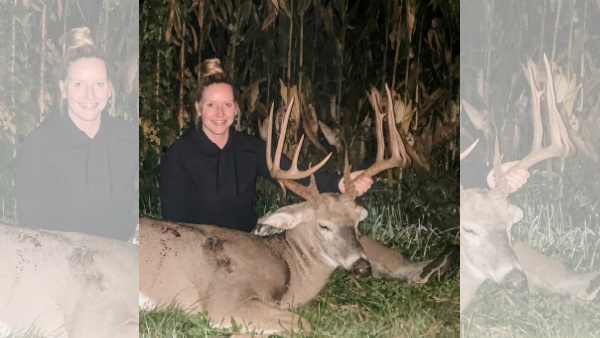 Amanda Richey of Milton, KY took this buck September 22, 2020 on the Hughes Family Farm in Bedford, KY. She shot him with a crossbow at 40 yards from a ground blind. Boyfriend, Craig Hughes, was with her but being tucked behind some foliage she was on her own spotting him with the rangefinder, waiting for several does to clear the way and for the buck to get in perfect position for a favorable shot.
November 18, 2020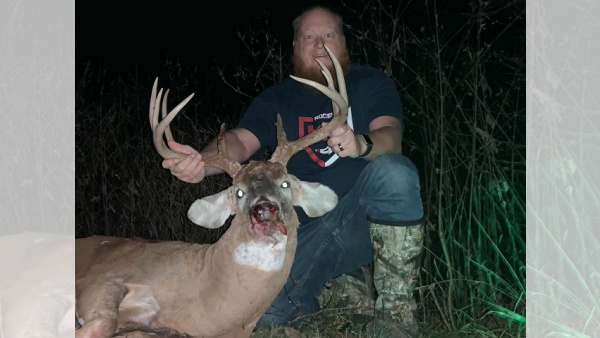 Ralph Hance of Lockport KY Harvested this one in Bethlehem KY. He and his son set up a blind on the family farm in a field. About 5:20, a bald eagle flew over the ground blind and almost immediately a doe came walking out. About 5 minutes later a buck he'd been hunting for 3 years walked out into the field chasing the doe. Best deer he's gotten with his 11 year old son by his side.
November 19, 2020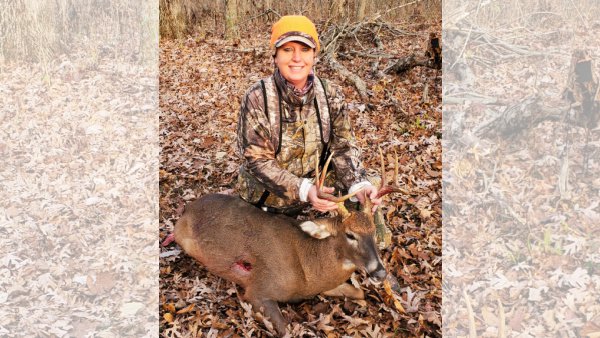 Angela Ward, Madison Indiana, Jefferson County opening morning of firearms. I Started hunting 7 years ago with my husband. It has brought us closer together as a husband and wife. I absolutely love spending time in the woods, it's not just about hunting it's about slowing down in life to appreciate the little things And providing meat for our family.
November 20, 2020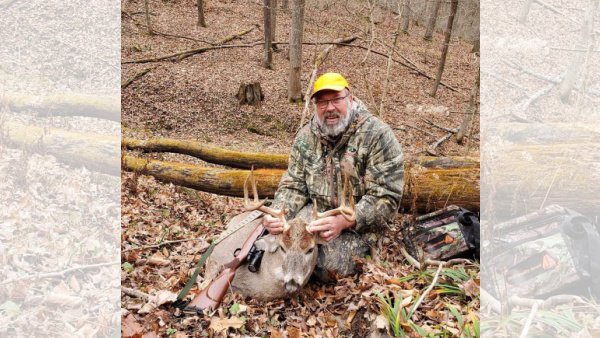 2020 buck that I got opening morning. 4 hrs later my wife got a nice 8pt. I've been hunting 40+ yrs but the last 7, since my wife Angela started hunting with me, have been my best. Glenn Ward, killed in Jefferson Co.
Free Covid 19 testing

FREE COVID-19 TESTING SITE The City of Madison is offering COVID-19 testing at the Senior Center beginning July 21st. This site will provide testing for up to 132 individuals per day free of charge without an appointment, symptoms, insurance, or a doctor's note. Details The testing will be held at the Senior Center located at 208 N. Main St. The site will be open from 8:00 a.m. to 8:00 p.m. Monday through Friday until at least mid-August. However, the site will close each day from 12:00 p.m. to 12:30 p.m. and from 4:30 p.m. to 5:00 p.m. to provide staff with meal breaks. The testing site is managed by OptumServe and follows all CDC and State of Indiana COVID-19 guidelines. Therefore, only two individuals will be permitted in the building for testing at a time. While walk-ins are accepted, residents are encouraged to register for testing online. LHI.Care/covidtesting is the preferred method for registering and requesting appointments. It is available 24/7. The Call Center is only available during the test site hours of operation for select residents that do not have internet access. The phone number is 888-634-1116. Appointments are encouraged; patients arriving at the event site without a scheduled appointment will be registered by event staff upon arrival at the facility.

at

Madison Senior Center

Wonderland Drive

Enjoy this driving experience down Madison's beautiful riverfront and Bicentennial Park all decked out with festive lights and displays. Lights will be on through the New Year. . Lights on: November 27 - December 31 . Wonderland Drive is presented by Wonderland in the Park

at

Bicentennial Park

Santa Claus is coming to Madison

Santa Claus is coming to Madison! Like in years past, Santa's cottage will be placed at the Comfort Station for families to go and visit him, but unlike in years past, children will not be able to enter the cottage. Instead, Santa will remain indoors working in his shop while children and families visit from a distance. The city is asking that you be respectful of other families who may also be stopping by to say hello to Santa, watch your distance, and wear a mask if social distancing is not possible. Santa will be in his cottage on the following schedule: Saturday, November 28th 11:30 a.m. to 3:30 p.m. Saturday, December 5th 10:00 a.m. to 1:00 p.m. 2:00 p.m. to 4:00 p.m. Friday, December 11th, 5:00 p.m. to 8:00 p.m. Saturday, December 12th, 1:00 p.m. to 4:00 p.m. Friday, December 18th, 5:00 p.m. to 8:00 p.m. Saturday, December 19th, 1:00 p.m. to 4:00 p.m. If you do not feel comfortable taking your children to see Santa, you can schedule a call with him by emailing hfagen@madison-in.gov. The city will also be setting up Santa's mailbox for him beginning on Tuesday, December 1. All letters to Santa can be placed in his mailbox outside of City Hall, kids can drop off their letters to Santa until December 16 at 3:30 p.m. Santa will read letters live on the city's Facebook page at 4:00 p.m. on December 12th and December 19th. Please note that not all letters will be read due to Santa's busy schedule. All letters with a return address will receive a note back from Santa.

at

Historic Downtown Madison