On-Air Auction driven by Car Country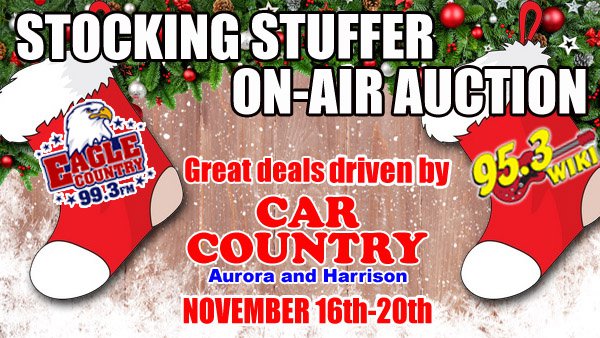 Prepare your radio presets, program your phone's speed dial, and get ready to save some serious money! The Eagle Country 99.3 and 95.3 WIKI Stocking Stuffer On-Air Auction driven by Car Country returns November 16-20 with three-hour bidding session.
Tune in Monday-Friday from 9:00 a.m. to noon to save big!
Listeners can save up to 50 percent on goods and services from great local businesses. We're talking food, gifts, furniture, landscaping, oil changes, shows and attractions, and much more!
Participating in the auction is easy!
Live Radio Auction Bidding Sessions
Monday, November 16 - 9AM-Noon
Tuesday, November 17 - 9AM-Noon
Wednesday, November 18 - 9AM-Noon
Thursday, November 19 - 9:00 AM-Noon
Friday, November 20 - 9:00 AM-Noon
Listen to the live bidding sessions on 99.3 FM or 95.3 FM or steaming online during the live radio bidding times listed on this page. When you hear our auctioneers announce an item that you'd like to bid on, call us right away at 812-537-0944 or 812-537-9724. When you get through, tell the auctioneers what you'd like to bid on the item – or items – you are interested in. Continue listening to see if the auctioneers announce whether your bid wins the item(s). For many items, you man also bid the "buy it now" price which is at least 20 percent off the retail price!
If you win at least one item, visit the Eagle Country 99.3 studios at 20 E. High Street, Lawrenceburg, Indiana 47025 during regular business hours, 8:00 a.m. until 5:00 p.m. Monday through Friday. You can also call our office at 812-537-0944 to pay by phone during the same business hours. Winning bidders can pay with cash, check, or credit card. Card types accepted include Visa, MasterCard, Discover, and American Express. Items must be paid for within two days of winning them, otherwise they will be put up for re-bidding.
95.3 WIKI listeners in the Madison area can request to have their items shipped to WIKI's studio for pick up by calling 812-537-0944 during normal office hours.
How do I get my business involved?
If you are a tri-state area business interested in trading merchandise to be sold on the auction in exchange for radio advertising, contact our sales staff today! Reach Eagle Country 99.3 at 812-537-0944, 95.3 WIKI at 812-273-3139, or email us here.
Check back for a full list of participating businesses.
Carroll County Career Services

Job Seeker Services- Focus Career Job Search Portal, Interview Assistance, Job Fairs and Hiring Events, Youth and Young Adult Career Options Employer Services- Direct Access to Local Job Seekers for Employers, Talent Recruitment Assistance, Pre-screening, Assessment and Hiring Support, Job Posting on FOCUS Talent Job Search Portal Education and Training- Soft Skills Workshops, Workforce Innovation and Opportunity Act Grant Funding, Career Training and Exploration Career Readiness- Resume and Cover Letter Services, Letter of Disclosure, Federal Bonding Walk in Hours: Wednesday-Thursday 8am-4:30pm Monday, Tuesday, and Friday by appointment Visit www.nkcareercenter.org for more information

at

Kentucky Career Center

Free Covid 19 testing

FREE COVID-19 TESTING SITE The City of Madison is offering COVID-19 testing at the Senior Center beginning July 21st. This site will provide testing for up to 132 individuals per day free of charge without an appointment, symptoms, insurance, or a doctor's note. Details The testing will be held at the Senior Center located at 208 N. Main St. The site will be open from 8:00 a.m. to 8:00 p.m. Monday through Friday until at least mid-August. However, the site will close each day from 12:00 p.m. to 12:30 p.m. and from 4:30 p.m. to 5:00 p.m. to provide staff with meal breaks. The testing site is managed by OptumServe and follows all CDC and State of Indiana COVID-19 guidelines. Therefore, only two individuals will be permitted in the building for testing at a time. While walk-ins are accepted, residents are encouraged to register for testing online. LHI.Care/covidtesting is the preferred method for registering and requesting appointments. It is available 24/7. The Call Center is only available during the test site hours of operation for select residents that do not have internet access. The phone number is 888-634-1116. Appointments are encouraged; patients arriving at the event site without a scheduled appointment will be registered by event staff upon arrival at the facility.

at

Madison Senior Center

Three Rivers District Health Department Free Crib Qualification Survey

1. Are you currently pregnant? Y/N 2. Do you have or care for an infant or toddler under the age of 2 years old? Y/N 3. Does the infant or toddler ever sleep in anything other than a crib, bassinette, or Pack n Play? Y/N 4. Are there stuffed animals, toys, pillows, blankets, or any loose bedding in the infant's sleep environment? Y/N 5. Does the infant ever share a sleep surface with an adult, sibling, or a pet? Y/N 6. When the infant sleeps, is he/she ever placed on his/her side or stomach? Y/N If you answered yes to any of these questions, contact one of our locations below for your Free Pack n Play. Carroll County Health Center: 502-732-6641 Gallatin County Health Center: 859-567-2844 Owen County Health Center: 502-848-5736 Pendleton County Health Center: 859-654-6985

at

River Terrace Health Campus