Thornton's Motorcycles Winning Wednesdays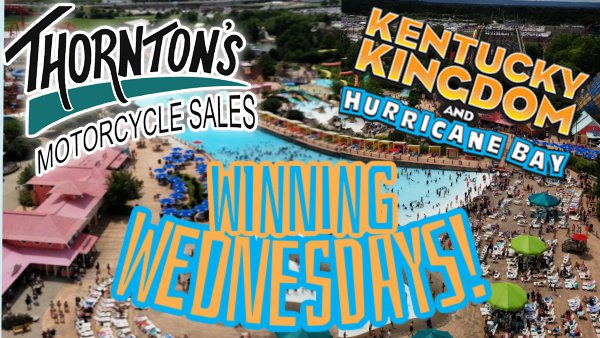 Summer is still here, so WIKI Country 953 and Thornton's Motorcycle Sales want to help you have fun and make you a winner!
You have 2 opportunities each week to win a Family 4 pack of Kentucky Kingdom tickets.
Register to win HERE on this page
AND/OR
Register to win at EITHER Thornton's Motorcycle Sales locations in Madison or Versailles.
Each Wednesday we will pick one winner from online AND one winner from the location boxes.
Each winner will receive a Family 4 pack of tickets to Kentucky Kingdom!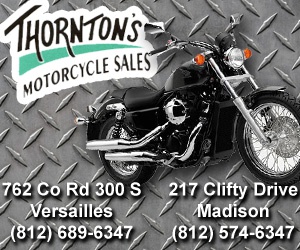 Don't Wait! This contest ends 8/19/2020
*Must be 21 or older to win
For full contest rules click here
Free Covid 19 testing

FREE COVID-19 TESTING SITE The City of Madison is offering COVID-19 testing at the Senior Center beginning July 21st. This site will provide testing for up to 132 individuals per day free of charge without an appointment, symptoms, insurance, or a doctor's note. Details The testing will be held at the Senior Center located at 208 N. Main St. The site will be open from 8:00 a.m. to 8:00 p.m. Monday through Friday until at least mid-August. However, the site will close each day from 12:00 p.m. to 12:30 p.m. and from 4:30 p.m. to 5:00 p.m. to provide staff with meal breaks. The testing site is managed by OptumServe and follows all CDC and State of Indiana COVID-19 guidelines. Therefore, only two individuals will be permitted in the building for testing at a time. While walk-ins are accepted, residents are encouraged to register for testing online. LHI.Care/covidtesting is the preferred method for registering and requesting appointments. It is available 24/7. The Call Center is only available during the test site hours of operation for select residents that do not have internet access. The phone number is 888-634-1116. Appointments are encouraged; patients arriving at the event site without a scheduled appointment will be registered by event staff upon arrival at the facility.

at

Madison Senior Center

Carroll County Career Services

Job Seeker Services- Focus Career Job Search Portal, Interview Assistance, Job Fairs and Hiring Events, Youth and Young Adult Career Options Employer Services- Direct Access to Local Job Seekers for Employers, Talent Recruitment Assistance, Pre-screening, Assessment and Hiring Support, Job Posting on FOCUS Talent Job Search Portal Education and Training- Soft Skills Workshops, Workforce Innovation and Opportunity Act Grant Funding, Career Training and Exploration Career Readiness- Resume and Cover Letter Services, Letter of Disclosure, Federal Bonding Walk in Hours: Wednesday-Thursday 8am-4:30pm Monday, Tuesday, and Friday by appointment Visit www.nkcareercenter.org for more information

at

Kentucky Career Center