I Love My Country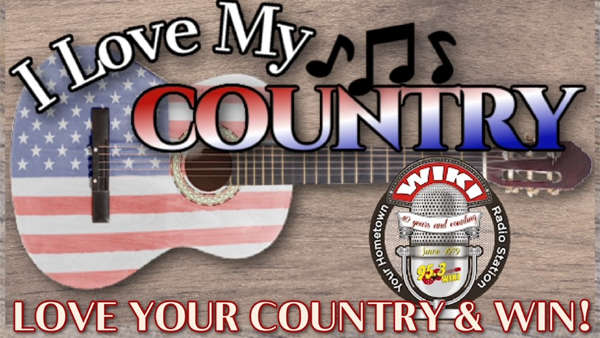 Presented By:
Do you love your country?
Tune in to WIKI Country 95.3 every Monday, Tuesday, Thursday and Friday through Veterans Day (Friday, November 11 for your chance to qualify to win a trip for two to Nashville, Tennessee.
Ways to Qualify
On-Air (32 chances): Starting Monday, September 19, listen between 6:00 AM and 5:00 PM for for the cue to call. The first caller to name the song clip correctly will receive a limited edition "I Love My Country" t-shirt and will be qualified to win the grand prize.
The number to call is 877-953-0953.
Website Wednesday (8 chances):
If naming song titles isn't your thing, then Website Wednesday is for you. Simply fill out the form below and we will randomly select a new qualifier each week (You will need to fill out the form each week to be eligible to qualify).
At Sponsor Locations (60 chances): (Each sponsor will choose a date for WIKI Country 95.3 to broadcast live for an hour).
Listeners have a chance to pick up a qualifying t-shirt during live events. Dates and times TBD.
Locations include:
Belterra Casino Resort & Spa: 777 Belterra Dr, Florence, IN 47020
Thornton's Motorcycle Sales: 762 E County Rd. 300 S, Versailles, IN 47042 - October 19, 12:00-1:00 PM
Zimmer Tractor: 7690 US-50, Aurora, IN 47001 - October 12, 12:00-1:00 PM
Centra Credit Union: 303 Clifty Dr, Madison, IN 47250
The Rusty Buck: 821 S Adams St, Versailles, IN 47042
Craig Toyota: 258 Clifty Dr, Madison IN 47250 - November 11, 10:00-11:00 AM
*All qualifiers WIN Limited Edition T-Shirt
Grand Prize: Trip for Two to Nashville
$500 cash card to your choice of hotel in Nashville. (Wagon Wheel Broadcasting, LLC is not responsible for making reservations or for any amount over $500. The $500 cash card does not have to be used for accommodations. You may use it like cash to purchase anything.)
$100 Gas Card (Wagon Wheel Broadcasting, LLC is not responsible for transportation to Nashville. Any amount for gas over $100 is the winner's responsibility.
Two tickets to The Grand Ole Opry County Christmas with Backstage Tour plus a Grand Ole Opry Goodie Bag
Limited Edition "I Love My Country" T-Shirt
*Prize is non-transferable.
*Winner is responsible for all taxes.
* Winner and guests will hold harmless Wagon Wheel Broadcasting, LLC, it's sponsors and their agents regarding any item won during this contest.
*Winner will sign a release form.
Contest Rules
Must be 21 or older to enter
One qualifier per household
Qualifiers WILL NOT need to be present to win grand prize
See full contest rules here.
Click below to Sign up to receive updates and special offers from Grand Ole Opry and Opry Entertainment Group.