On-Air Auction driven by Car Country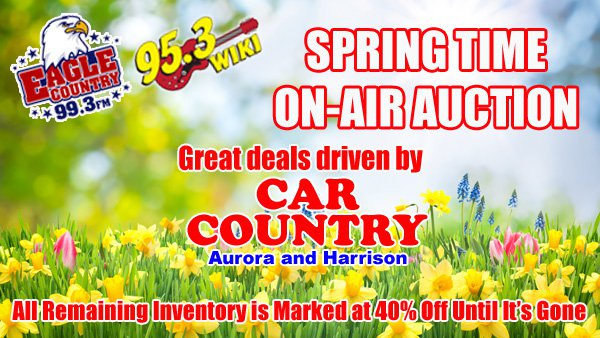 THE AUCTION BARGAIN BOX IS OPEN. DROP BY THE EAGLE'S NEST AT 20 E HIGH STREET TO SAVE 50% THIS WEEK WHILE ITEMS LAST.
YOU CAN ALSO CALL US AT 812-537-0944 TO SHOP FOR YOU AND PAY WITH A CREDIT CARD. WE'LL HOLD YOUR PAID ITEMS UNTIL YOU CAN PICK THEM UP.
ITEMS LEFT INCLUDE BUT ARE NOT LIMITED TO:
RIPLEY'S AQUARIUM OF THE SMOKIES
CREATION MUSEUM -ARK ENCOUNTER
RENAISSANCE TICKETS - AFRICAN SAFARI
FLORENCE YALL'S - MAKE A MIA PIZZA
YOUR CBD STORE - ERTEL'S WINERY
AT THE BARN WINERY
AND MUCH MORE!!!