Springtime On-Air Auction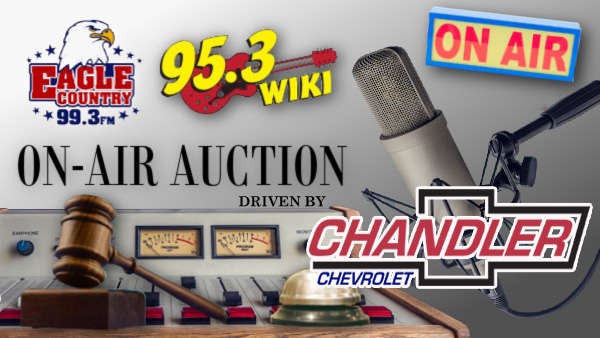 You are invited to save big during the Springtime On-Air Auction, driven by Chandler Chevrolet!
Save 20...30...40...or maybe even 50 percent on gift certificates to local businesses including food items, service, entertainment and more!
The bidding begins Monday, March 27 and continues weekdays through April 6.
Nighttime sessions will be held Monday through Thursday (March 27-30 & April 3-6) from 6:00 to 8:00 p.m. with the exception of Mondays when the Auction will air immediately following Crunch Time from 6:00 to 6:30.
Daytime sessions will take place from 11:00 a.m. to noon.
Participating in the auction is easy! Just listen to Eagle Country 99.3 FM or WIKI Country 95.3 FM or stream us live at www.eaglecountryonline.com or 953wiki.com during the designated live on-air bidding sessions listed on this page. When you hear our auctioneers announce an item that you'd like to bid on, call us right away at 812-537-0944 or 812-537-9724. When you get through, tell the auctioneers what you'd like to bid on the item - or items - you are interested in. Continue listening to see if the auctioneers announce whether your bid wins the item(s). You can also bid the "buy it now" price which is at least 20 percent off the retail price.
What if I bid and win an item? Visit the Eagle Country 99.3 studios at 20 E. High Street, Lawrenceburg, Indiana 47025 during regular business hours, 8:00 a.m. until 5:00 p.m. Monday through Friday. You can also call our office at 812-537-0944 to pay by phone during the same business hours. Winning bidders can pay with cash, check, or credit card. Card types accepted include Visa, MasterCard, and Discover. Items must be paid for within two days of winning them, otherwise they will be put up for re-bidding. 95.3 WIKI listeners in the Madison, Indiana area can request to have their items shipped to WIKI's studio for pick up by calling 812-537-0944.
Check back for a full list of participating businesses.