Stocking Stuffer On-Air Auction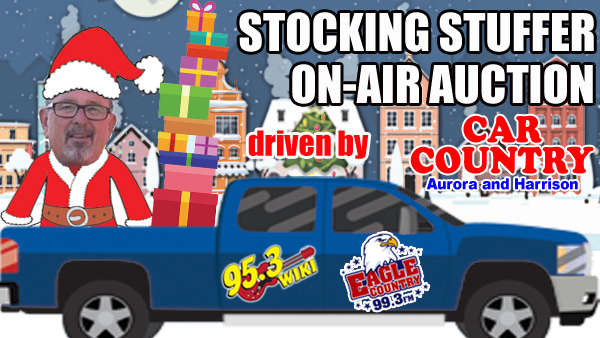 What are you doing this week?
You are invited to save big during the Stocking Stuffer On-Air Auction.
Bidding sessions are as follows:
Tuesday, November 30 - Friday, December 3: 11:00 a.m. to noon
Participating in the auction is easy! Just listen to Eagle Country 99.3 FM or WIKI Country 95.3 FM or stream us live at www.eaglecountryonline.com or 953wiki.com during the designated live on-air bidding sessions listed on this page. When you hear our auctioneers announce an item that you'd like to bid on, call us right away at 812-537-0944 or 812-537-9724. When you get through, tell the auctioneers what you'd like to bid on the item - or items - you are interested in. Continue listening to see if the auctioneers announce whether your bid wins the item(s). You can also bid the "buy it now" price which is at least 20 percent off the retail price.
What if I bid and win an item? Visit the Eagle Country 99.3 studios at 20 E. High Street, Lawrenceburg, Indiana 47025 during regular business hours, 8:00 a.m. until 5:00 p.m. Monday through Friday. You can also call our office at 812-537-0944 to pay by phone during the same business hours. Winning bidders can pay with cash, check, or credit card. Card types accepted include Visa, MasterCard, and Discover. Items must be paid for within two days of winning them, otherwise they will be put up for re-bidding. 95.3 WIKI listeners in the Madison, Indiana area can request to have their items shipped to WIKI's studio for pick up by calling 812-537-0944.
| | |
| --- | --- |
| 2021 HOLIDAY Auction Participants | ITEM |
| AFFORDABLE TAX CONSULTANTS | $150 GIFT CERTIFICATES |
| BEAR'S FURNITURE | LAZY-BOY ROCKER RECLINER OVERSIZED |
| BELLO'S PIZZA | $100 & $15 GIFT CERTIFICATES |
| BIG INDIAN WOODWORKING | $25 GIFT CERTIFICATES |
| BURG NUTRITION | $20 GIFT CERTIFICATES |
| CECIL'S SLICE OF PIE | FAMILY PIZZA PACK $25 |
| COMBS PIZZA | HOAGIE OR PIZZA MEAL |
| CRAIG DISTRIBUTING | VARIOUS ITEMS |
| CRAIG TOYOTA | RHINO SPRAY IN LINERS |
| CUMMINS CAFÉ DELIGHTS | $20 GIFT CERTIFICATES |
| DAYZ METAL WORKS | $50 & $25 GIFT CERTIFICATES |
| DISTINCTIVE KNITS YARN SHOP | $25 GIFT CARDS |
| DURBIN BOWL | $25 GIFT CARDS |
| EMILLY'S BREW COFFEE COMPANY | $25 GIFT CARDS |
| ERTEL CELLARS WINERY | $25 GIFT CERTIFICATES |
| GEORGE'S PHARMACY | $25 GIFT CERTIFICATES |
| GRAND BUFFET | $25 GIFT CERTIFICATES |
| GREENDALE CINEMA | $34 TICKET/POPCORN/DRINK COMBO FOR 2 |
| HOLTKAMP WINERY & VINEYARDS | $28 WINE TASTING FOR FOUR |
| J&J LIQUOR | $25.00 GIFT CERTIFICATES |
| L'BURG DRINKS & MORE | $25 GIFT CERTIFICATES |
| MADISON WINSUPPLY | $100 GIFT CERTIFICATES |
| MAIN STREET DINER | $25 GIFT CERTIFICATES |
| MAKE A MIA | HOAGIE OR PIZZA MEAL |
| MCDONALD'S | FOUR MEDIUM COMBO MEALS VALUED AT $28 |
| PAT'S BULK FOOD & COUNTRY STORE | $25 GIFT CARDS |
| PERSONALLY YOURS | $20 GIFT CERTIFICATES |
| PIECZONKA UNLIMITED | $25 & $50 GIFT CARDS |
| PLUG'S SWEET TOOTH/UNCLE STEEL'S BREWS | $20 GIFT CERTIFICATES |
| REINDEER RIDGE | CERTIFICATE FOR CARLOAD |
| RIGGS WINDOW TINTING | $300 WHOLE SEDAN |
| ROUTE 262 OUTDOORS | $25 GIFT CARDS |
| RUSTY BUCK | $25 & $50 GIFT CERTIFICATES |
| STONE'S FAMILY RESTAURANT | $25 GIFT CERTIFICATES |
| STUDIO VAPES | $25 GIFT CERTIFICATES |
| TAUNYA'S CREATIVE CUTS | $25 & $50 GIFT CERTIFICATES |
| THE BLEND ON MAIN | $25 GIFT CERTIFICATES |
| THE CAPTAIN'S TAVERN | $20 IN GIFT CERTIFICATE |
| THE HUMMINGBIRD BOUTIQUE | $25 GIFT CERTIFICATES |
| THE TOUSEY HOUSE | $25 GIFT CARDS |
| WILLIE'S HVL | $25 GIFT CARDS |
| YOUR CBD | $25 & $50 GIFT CARDS |
| YULETIDE VILLAGE | $15 ADMISSION TO HOLIDAY PARK |
| ZEN GARDEN HOLISTICS | $25 GIFT CARDS |