Begins May 24th
Continuing a yearly tradition, the City will be having FREE "Mayor's Movie in the Park" events throughout this summer at Bicentennial Park. Thanks to over 500 people who voted online, this year's movies were chosen entirely through public participation. This summer, the City of Madison will be showing the movies "Cars 3" on Friday May 24 th as part of the RiverRun Car Show weekend, "Mary Poppins Returns" on Friday June 21 st after the United Way "Rolling on the River" golf cart parade, "Madison" during Regatta week (date TBD), "Aladdin" on Friday July 19th, "Ralph Breaks the Internet" on Saturday August 24th , "Captain America the Last Avenger" on Saturday September 14th as part of an American Legion event, "Lego Batman Movie" on Saturday, September 21st as part of "Batman Day", and "Dumbo" on Saturday, October 12th following the Soup Stew Chili & Brew festival.
Additional movie events are in planning stages and will be announced at a later date.
Movies are expected to begin at dusk, which will be approximately 9PM although during summer months dusk is closer to 9:30PM. All movies will be shown at Bicentennial Park. Residents are encouraged to bring a lawn chair and arrive early to get the best spot. If rain/storms are threatening the movie, check www.facebook.com/cityofmadisonin for the most up to date information about the movie being rescheduled or moved indoors.
"These are some of my favorite summer events. Movie attendance has grown exponentially over the last few years and everyone really enjoys watching a movie under the stars," said Community Relations Director Andrew Forrester. "We have had great support from local sponsors the last few years to be able to do these at no cost to taxpayers and I ask that anyone interested in sponsoring a movie would contact me soon to reserve your spot on the movie poster."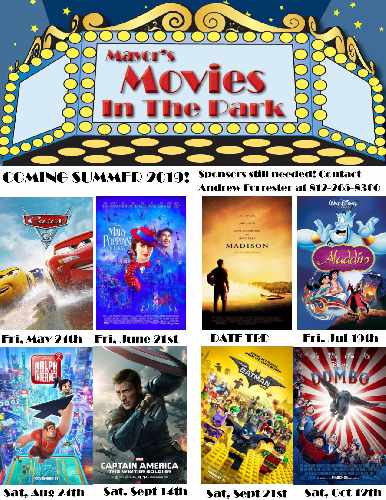 During most movies, Kona Ice will be in attendance and there will be food vendors for a limited amount of other events, but the community is welcome to bring snacks from home to enjoy. We do ask that in order to maintain an enjoyable environment for all in the park that there is no smoking or alcoholic beverages during the movies.