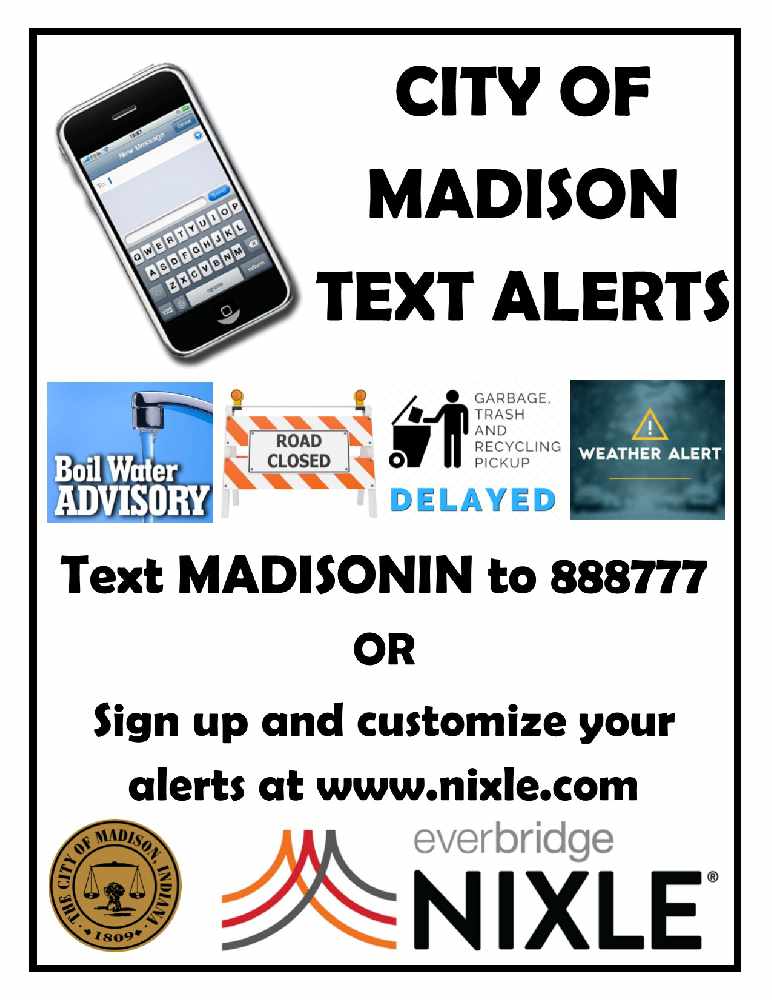 Nixle alerts
The City of Madison is announcing its partnership with Jefferson County to provide alerts to residents through the Nixle system. The City's current alert system will cease operation on March 28th.
Residents who want to be on the new text alert system for City of Madison alerts are asked to text "MadisonIN" to the number 888777 or sign up at www.nixle.com. Text alerts will be sent about road closures, boil water advisories, holiday office closures, and trash/recycling pickup delays in the City limits. By signing up for this list, residents will also receive Jefferson County weather alerts and emergency information.
Nixle alerts are customizable, with residents able to receive phone calls, text messages, emails, or all of the above. For a full list of message options and to personalize the type of alerts and time of day the alerts come through, residents are asked to sign up at www.nixle.com. Additional text alert lists for festivals, events, and parks department information will be created over the coming months and information about how to sign up will be sent to the public.
Jefferson County has been utilizing Nixle for a few years, but under the direction of Emergency Management Director Troy Morgan, use has expanded. Mr. Morgan said, "One of my goals has been to streamline information and grow our list of users. This partnership with the City allows us to reach more people with information that matters to them."
"I think this partnership between the City and County on our text alert systems will make both governments more efficient and provide benefits to the entire community," said Mayor Damon Welch.
Questions about the change and the new system can be directed to Andrew Forrester at 812-265-8300 or community@madison-in.gov and by signing up at www.nixle.com.