McGill will serve his 28-year sentence at the Indiana Department of Correction.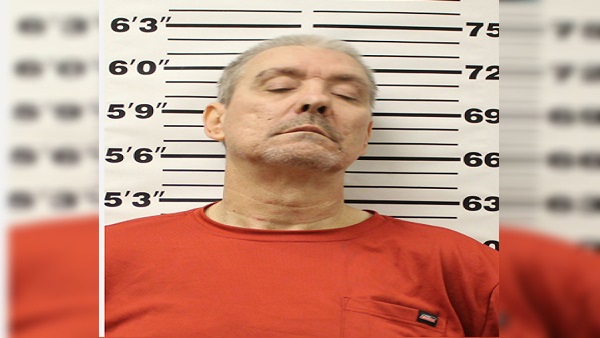 (Madison, Ind.) - On Monday, May 3rd, Everett James McGill was sentenced in Jefferson County Circuit Court following his March 10th, 2021 conviction for Attempted Sexual Misconduct with a Minor and Child Solicitation, both Level 4 Felonies. McGill, a registered sex offender, was sentenced to 28 years, which includes an enhancement as a habitual offender.
The case was tried by Prosecutor David Sutter and Chief Deputy Prosecutor Melissa Campbell. This was the first trial and conviction in Operation Predator Net (OPN), a collaborative effort by the Madison Police Department (MPD) and the Jefferson County Prosecutor's Office to crack down on child predators.
After the sentencing hearing, Prosecutor David Sutter thanked the law enforcement professionals for their efforts. "Thanks to the Madison Police Department and their tremendous police work, we were able to put this child predator behind bars. I especially want to thank Detectives Kyle Cutshaw, Ricky Harris, and Shawn Scudder for their testimony at trial and at the sentencing hearing," said Prosecutor David Sutter.
The case against McGill began in the fall of 2020 when OPN was initiated. As part of OPN, the Madison Police Department created a social media profile depicting a fourteen-year-old female, "E.W." According to the probable cause affidavit, McGill, initiated a chat conversation with the social media profile. McGill's Facebook profile was named "Unk Aaron" and listed a date of birth ten years younger than his actual age.
McGill engaged in near constant communication with the MPD account between September 3rd, 2020 and September 9th, 2020. In the messages, McGill would refer to E.W. as "babe" and "kid" and would constantly message her, even during late night hours wanting to chat, and asking questions about what she likes to do for fun and how she likes to party.
On September 9th, 2020, Detective Shawn Scudder identified the "Unk Aaron" Facebook profile as belonging to Everett James McGill, age 53, and further that McGill was a registered sex offender in Jackson County, Indiana. The sex offender registry listed McGill as having a prior conviction for child molestation and a lifetime registration requirement for the registry.
Detective Scudder noted that McGill had also been messaging another undercover profile that he manages and that depicts a fourteen-year-old female, and a third undercover profile managed by Detective Ricky Harris. On September 10th, 2020, McGill initiated a conversation with E.W. that led to a discussion of her sexual preference and sexual history. During this conversation, E.W. advised she was fourteen years old, after which McGill continued to engage in talking about sex and oral sex with E.W. and eventually telling E.W. he could arrange for her to perform oral sex with him. McGill then arranged to meet E.W. in Madison, Indiana.
On September 11th, 2020, Patrolman Nichole Midgett spoke to McGill by phone via the Facebook messenger app. She stated that McGill, believing she was E.W., wanted her to wear a black dress with a flower in her ear so he would recognize her. McGill then messaged that he would send her a "thumb's up" emoji when he got to Madison, and then another when he wanted her to call him and that he would pick up vodka and orange juice.
McGill arranged to meet E.W. at the Circle K gas station on 2nd street in Madison and further instructed her to enter the store and purchase a snickers candy bar. While inside the station, McGill was observed by police watching a female intently for what she was buying. He was taken into custody when he exited the building. McGill was arrested and charged at that time.
In addition to the convictions for Attempted Sexual Misconduct with a Minor and Child Solicitation, in phase two of the trial, McGill was found to be a habitual offender. McGill will serve his 28-year sentence at the Indiana Department of Correction.