New office opening in Independence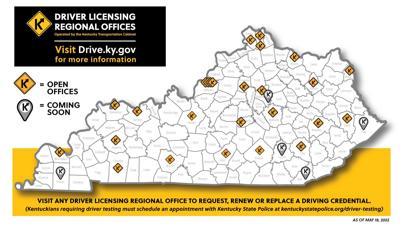 FRANKFORT, Ky. (KT) – More regional drivers' licensing offices were announced on Wednesday by the Kentucky Transportation Cabinet, while one more circuit court clerk's office will stop issuing them, effective on Thursday.
One new regional office is in Maysville, at 668 Kenton Station Road and operating hours will be Monday through Friday, 8 a.m. to 4 p.m., Eastern Time.
The two Kenton County Circuit Court Clerk's offices will cease licensing services starting Thursday, May 19, and a new Driver Licensing Regional office in Independence will open to the public Monday, May 23. A regional office opened in Covington in April.
The Independence and Covington regional offices are temporary spaces with plans to move to permanent locations within Kenton County in the future.
The traditional issuance system of licenses and permits initiated at the Office of Circuit Court Clerk in each county is being phased out. It is being replaced by a network of KYTC Driver Licensing Regional Offices located across the state. The Independence Office will be the 26th office to open, with plans to open five more offices statewide this summer.
"A driver's licenses or state ID is one of the most valuable items in a wallet, and the expansion of regional offices gives Kentuckians more secure card options to drive, verify identity and eventually to fly," Gov. Andy Beshear said. "With new versions valid for up to eight years, Kentuckians can go twice as long before they are due to renew."
Residents from any Kentucky county – regardless of where they live – may visit any regional office to request, replace or renew a driving credential. W hile Kentucky State Police (KSP) will continue to oversee driver testing, some testing sites are housed inside Driver Licensing Regional Offices.
Applicants requiring written or skills testing must schedule an appointment online at assigned locations by visiting DRIVER TESTING – kentuckystatepolice.org.
More than 160,000 Kentuckians have skipped a trip to a regional office entirely by renewing online or through the mail, options never available before. More information on the services offered through each renewal method is available here.
However, first-time REAL ID applicants must visit a KYTC regional office in person, with proof of identity, residence and social security. For a personalized list of required documents to bring when applying for a REAL ID, visit realidky.com.