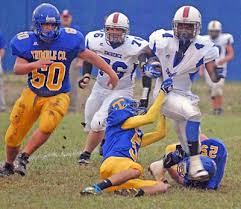 Starting with JV with varsity in the near future
TRIMBLE CO. RAIDER FOOTBALL IS BACK FOR 2019!!!:
THERE WILL BE MEETING ON THURSDAY MAY 16th FOR PARENTS AND STUDENTS (GRADES 6th THROUGH 11th) INTERESTED IN PLAYING JUNIOR VARSITY OR MIDDLE SCHOOL FOOTBALL
High School football returns to Trimble County as TCHS will be fielding a Junior Varsity team for the 2019 season, with plans to return to varsity competition in the near future.
Be apart of the next chapter and start the process of creating a new tradition in Trimble County Football by joining us on Thursday, May 16th at 7:00 PM in the High School Cafeteria for an information session about the upcoming Junior Varsity and Middle School Football season.
For questions and additional information, please contact Coach Simmins at brian.simmins@trimble.kyschools.us