After just four years Logan has raised more than $100,000 for ALS research.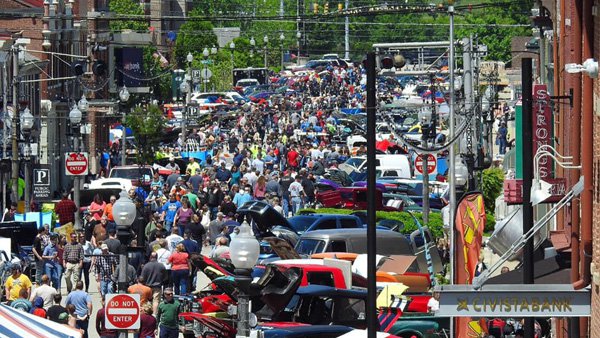 The 5th annual Cruisin to a Cure for ALS Car Show happens Sunday, May 2 in downtown Lawrenceburg. File photo.
(Lawrenceburg, Ind.) – The fifth annual Cruisin' to a Cure for ALS cast show is returning to downtown Lawrenceburg.
Logan Lawrence, a 2018 graduate of Lawrenceburg High School and current Purdue University junior has hosted an annual car show in Lawrenceburg since 2017 that honors his last grandfather Carlos Lawrence, who battled and died of ALS.
The show is scheduled for Sunday, May 2 from 9:00 a.m. to 4:00 p.m.
In 2017, Logan made his initial plans to host his first car show in honor of his grandfather. Logan set goals, one to raise $10,000 for ALS research and another goal to have 200 cars at the event. After just four years Logan has raised more than $100,000 for ALS research.
If you would like to register for the show you can do so on the day of until noon for a cost of $20.00 with awards being announced at 4:00 p.m. at the Civic Park stage.
The 2021 awards include the Best of Show award of $500, Top 25 Modern trophies (1991 and newer), Top 50 Classic (1990 and older), and $200.00 for the farthest distance traveled. There are also categories for motorcycles, specialty categories, and race cars. Plans for the day also include a morning church service at Zion Church at 10:30, children's activities, DJ Ray dowers, show choir performances, live music at the Civic Park, food stands, door prizes, t-shirt sales, and more.
For more information, you can contact Logan Lawrence at (513) 532-7261, logan352law@gmail.com, or through the Cruisin' to a Cure for ALS Facebook page.