This following a flurry activity in final two days of General Assembly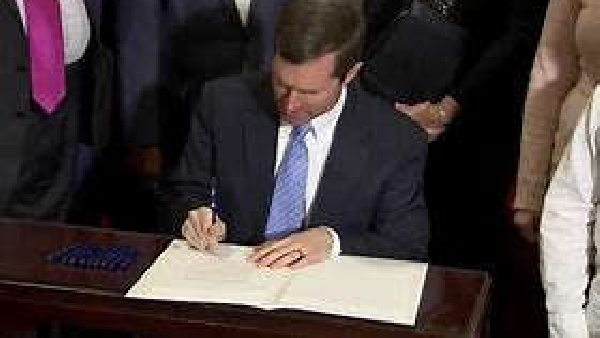 FRANKFORT, Ky. (KT) – Gov. Andy Beshear on Wednesday signed into law 14 pieces of legislation that were passed by the General Assembly, during the flurry of activity on the final two days of the session, April 13 and 14.
Among the major bills signed were:
--House Bill 44 allows school district attendance policies to include provisions for excused absences for mental or behavioral health reasons. The bill ensures that a student can make sure they're mentally fit for the classroom without facing repercussions for missed time away.
--HB 137 adds the definition of police officer to include joint task force members, county attorney investigators, process servers for juvenile courts and commonwealth attorney's investigators. This makes them eligible for the annual Kentucky Law Enforcement Foundation Program Fund supplement.
--HB 206 prevents anyone convicted of various sex crimes from being certified as a peace officer in Kentucky, and the conviction of an existing peace office for any of these crimes will lead to automatic decertification.
--HB 222 is known as "Anti-SLAPP" legislation, which stands for Strategic Lawsuits Against Public Participation. Its purpose is to dissuade individuals from filing frivolous lawsuits or threatening court action for the purpose of stifling public debate.
--HB 566 removes vehicle licensing red tape for nonprofit organizations that use motor vehicles. The legislation exempts not-for-profit organizations from motor carrier licensing requirements, as long as their vehicles are used to transport people 18 and older.
--HB 573 establishes a needed recruitment and retention tool for addressing the health care worker shortage, especially in rural and underserved areas of Kentucky, by providing financial incentives to attract and retain health care providers. The program will supplement federal funding, which requires a state match for scholarships and loan forgiveness, and will expand the list of health care workers eligible to participate and require recipients to work in underserved areas of Kentucky.
--Senate Bill 90 creates a pilot program in 10 counties to provide alternative forms of sentencing to individuals who suffer from behavioral health issues. A defendant would have the ability to participate in a behavioral health condition release program.
--SB 180 codifies Gov. Beshear's merger of the Education and Workforce Development Cabinet and the Labor Cabinet, which he proposed last November.
--SB 271 deals with the collection and analysis of data related to domestic violence in the state. The legislation requires the Criminal Justice Statistical Analysis Center (CJSAC) to collect data on occurrences and fatalities related to dating and domestic violence. It also requires the Cabinet for Health and Family Services to provide the CJSAC with detailed information about domestic violence shelter use as well as received reports of child abuse.
"I am proud to sign more good pieces of legislation recently passed by lawmakers in Frankfort," said Beshear. "These bills are helping us build a better Kentucky by supporting students' mental health, health care worker retention, virtual learning and addiction treatment, as well as preventing peace officers convicted of various sex crimes from being certified in Kentucky."