In addition, Gov. Holcomb signed 16 bills into law on Thursday.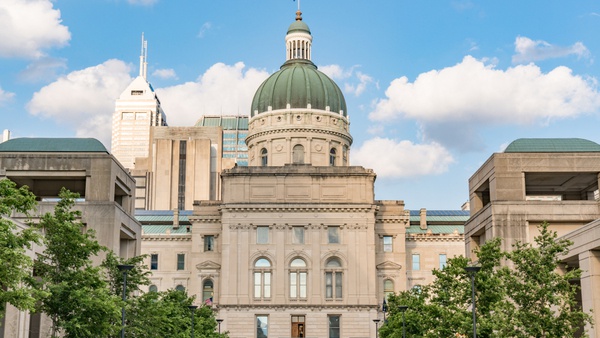 (Indianapolis, Ind.) – The legislative session has ended.
On Thursday, state lawmakers approved Indiana's new two-year $37 billion budget. The Republican-written budget plan received bipartisan support.
Only five state lawmakers voted against the budget, which dedicates $1.9 billion to K-12 education, fully funds a $600 million investment in teacher pay, helps small businesses recover from COVID-19, invests in law enforcement training, future state infrastructure projects, Next Level Trails, and broadband expansion.
Governor Eric Holcomb released the following statement:
"This has been a historic legislative session and I'm grateful for all the support my Next Level Agenda achieved. Indiana will be in an even stronger position with this new budget which prioritizes investing in Hoosiers.
"The Regional Economic Acceleration and Development Initiative will lead the nation in encouraging community collaboration to improve quality of place and advance industry sector development. The raises for educators, increased education funding, expanded broadband access and workforce development grants are all game-changers.
"Indiana will remain on a roll thanks to the teamwork of all those involved throughout this legislative session."
Lt. Gov. Suzanne Crouch offered the following statement:
"The past 16 weeks at the Indiana Statehouse have been unique and historic. In the end, we passed a bipartisan budget that supports our administration's Next Level Agenda. Over the next two years, Indiana will make significant investments in Hoosiers for today and tomorrow.
"I look forward to continuing our Next Level Connections Broadband Grant Program and launching the Regional Economic Acceleration and Development Initiative to push our state ahead of the pack. At the same time, we are working to lift all Hoosiers by appropriating an additional $100 million in the next two years to fund mental health initiatives.
"I am thankful for all the teamwork and collaboration that has taken place to safely operate the legislative process and produce great results in the end. It is another sign that Hoosiers are truly all in this together."
The governor ended the legislative session by signing 16 bills into law on Thursday. Some of the highlights included:
House Bill 1479
Early voting. Provides that the county election board may adopt a resolution authorizing the circuit court clerk to use the office of the circuit court clerk or establish a satellite office to permit voters to cast absentee ballots for at least four hours on the third Saturday preceding election day.
House Bill 1230
Safe haven 911. Provides that due to extenuating circumstances, if a child's parent or a person is unable to give up custody of a child under the procedure set forth in Indiana's safe haven law, the child's parent or the person may request that an emergency medical services provider take custody of the child by: (1) dialing the 911 emergency call number; and (2) staying with the child until a provider arrives to take custody of the child. Provides that a provider, shall, without a court order, take custody of a child who is, or who appears to be, not more than 30 days of age if the child is voluntarily left: (1) in a newborn safety device that is located at an emergency medical services station; or (2) with medical staff after delivery in a hospital or other medical facility when the child's parent notifies the medical staff that the parent is voluntarily relinquishing the child. Allows a child's parent to remain anonymous.