April 7th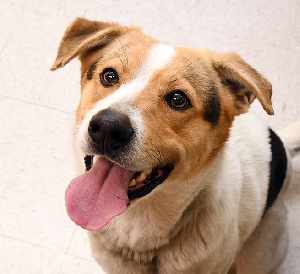 My name is "ZEKE".
I know sit and I also walk nicely on leash.
You'll find me a good companion for walks.
I'm an energetic boy; however, I listen well and will settle down when you ask me.
I keep my kennel nice and clean here at the shelter.
I shy away from motion around my head, so please don't just reach out to pet my head.
You'll need to take that slow so I get used to your hand reaching out to love on me.
Kids tend to reach for dog's heads, so families with young children are not an ideal fit for me.
I will do fine with other dogs in the family, but no cats please.
I'm a 1- to 3-year-old, mixed breed who weighs 32 lbs.
I'm mostly white with tricolor patches and I have a white blaze on my face that runs from my nose to my shoulders.
My adoption fee is $30 plus the cost of my neuter and rabies vaccination.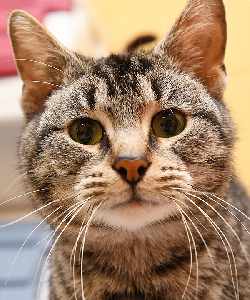 I'm "ANDRE".
I am a cool cat with a mellow and relaxed attitude.
I love to be lazy and you'll find me just relaxing in my cage.
Picture me laying on your sofa, in a sunny window, or even snuggling in your lap.
You will want to get a covered litter box for me as I like to potty as close to the edge as possible.
I had a gastrointestinal problem when I came to the shelter.
Now that I'm feeling better, I'm playful too.
You'll need to keep me on a prescription diet as I have a very sensitive stomach.
I eat Royal Canin Gastrointestinal here at the shelter.
I want to emphasize this because having even 1 treat will cause it to flare up again.
I'm a 5- to 7-year-old, male, brown Tabby.
I'm NEUTERED, up-to-date on vaccinations, and $45 to adopt.
~~~~~~~~~~~~~~~~~~~~~~~~~~~~~~~~~~~~~~~~~~~~~~~~~~~~~~~~~~~~~~~~~~
Kitten Season has started at the shelter. We have pregnant moms and soon will have nursing moms with litters that need to be fostered.
To foster cats or dogs please fill out an application at the shelter.
Pets that are fostered are pregnant/nursing, being treated for heartworm, or recovering from other illness/injury and are not currently adoptable. Fostered pets are returned to the shelter when they are ready for adoption (unless you make arrangements with the shelter director to adopt your foster).
We do not use fosters for animals who are currently healthy and adoptable or who are on their stray hold as they need to be at the shelter for the public to meet/adopt/reclaim.
If you are interested, please be aware that any animal already in your home must be up-to-date on vaccinations and spayed or neutered. You must have a home inspection completed by shelter staff, and everyone in your home must agree to shelter guidelines.