FOSTER HOMES ARE NEEDED!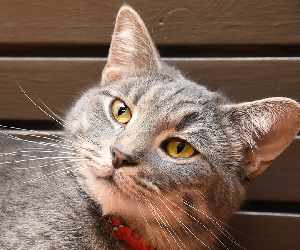 I'm "DOC".
I am the King of the Shelter.
I'll be the light-gray Tabby you will see roaming the lobby and helping to welcome people & pets to the shelter.
Sometimes you'll find me snoozing in my cozy bed on the cat tree in adoption room.
I love a good massage, so feel free to spoil me!
I'm a laid-back guy, so I'm pretty good at putting people and pets at ease.
My shelter job was to "cat-test" other animals.
I was doing great until I got too close to a fast, mean dog who was coming in to the shelter and who knocked me off my perch.
Now I don't like dogs and there are always dogs here at the shelter.
So, I am now available for adoption to an approved indoor-only home.
I would be especially great for the residents of a local nursing home!
I am very loved here; the shelter staff and director will all have to approve my adoption.
So, you will need to be a very special person.
I'm NEUTERED, up-to-date on my vaccinations, and $45 to adopt.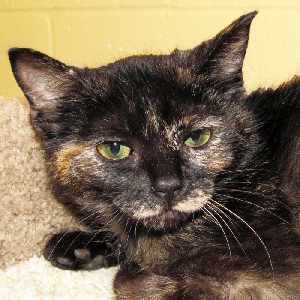 They call me "KISS".
I'm a quirky, little girl.
I like some people. Others not so much.
You'll know which one you are when I either 'kiss' you or 'hiss' at you.
I am a calm kitten who LOVES to be carried around.
Laying in zip-up hoodies is my favorite place to be!
I'm a 3- to 4-month-old, Tortoiseshell KITTEN.
I'm SPAYED, up-to-date on vaccinations, and only $45 to adopt.
~~~~~~~~~~~~~~~~~~~~~~~~~~~~~~~~~~~~~~~~~~~~~~~~~~~~~~~~~~~~~~~~~~
Kitten Season has started at the shelter. We have nursing moms with litters who are looking for foster homes.
To foster cats or dogs please fill out an application at the shelter.
Pets that are fostered are pregnant/nursing, being treated for heartworm, or recovering from other illness/injury and are not currently adoptable. Fostered pets are returned to the shelter when they are ready for adoption (unless you make arrangements with the shelter director to adopt your foster).
We do not use fosters for animals who are currently healthy and adoptable or who are on their stray hold as they need to be at the shelter for the public to meet/adopt/reclaim.
If you are interested, please be aware that any animal already in your home must be up-to-date on vaccinations and spayed or neutered. You must have a home inspection completed by shelter staff, and everyone in your home must agree to shelter guidelines.
The shelter pays for medical care and will supply food.
Applications can be picked up during business hours.
~~~~~~~~~~~~~~~~~~~~~~~~~~~~~~~~~

~~~~~~~~~~~~~~~~

~~~~~~


Cats

and kittens

are $45

of

f

the

ir adoption and spay/neuter fees c

ourtesy

of

the

shelter and

the

Jefferson County Humane Society

.

Cats who are already neutered or spayed are $45 and not part

of

the

special.