October 29th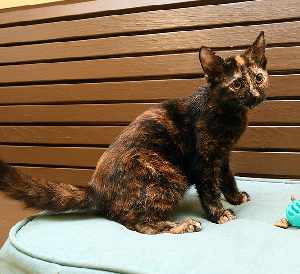 My name is "CELIA".
I'm a little lover! You'll enjoy having my attention.
I also love other cats and need to be with them.
I'm requesting my new family have at least one other cat.
I'm happy at the shelter as long as I have a friend.
When my friends are adopted however, I'm lonely, bored, and resort to rearranging my living space.
When you come to visit me, you'll find me with Misty and Charo.
If history plays out, they'll be the next to be adopted.
I keep getting overlooked and I'm not sure why.
I'm a beautiful, female Tortoiseshell with a loving personality.
But I've been here at the shelter for 2 months and am now 4-months-old.
One way to make sure I have a cat friend and playmate is to adopt a second kitten with me.
All cats and kittens are $45 OFF. So, I would be $45 off my adoption and spay fee.
A second kitten would make it $90 off our total.
I'm "DUNDEE"
I'm ready to play and have fun.
I'm a generally well-behaved boy who still occasionally jumps up on people to greet them.
You'll love my unique black and white coat with blue merle swirls. I'm a Catahoula Leopard Dog mix.
Catahoula's are working dogs, primarily herding, and I would love to have a job.
I might make a good farm dog if you don't have small animals, including cats. No cats in my new family please.
Or I could be your walking companion or playmate in an active household.
I'll be at my best with physical and mental stimulation.
I would not be best for a first time dog owner since I am a working breed.
I still need to have at least basic obedience training and will do best with an experienced owner as I like a consistent routine.
I should be easy to train as I've house-trained myself at the shelter and do not make messes in my kennel run.
Training me is a great way for me to get the mental stimulation I need.
Training hint - I enjoy treats, especially Greenies.
Please bring your other dogs to meet me. I do well with most dogs, but let's double-check before you take me home.
I'm a 2- to 3-year-old male who weighs 63 lbs.
My adoption fee is $25 plus the cost of my neuter and rabies vaccination.
Fun trivia fact: Catahoula Leopard Dogs are the state dog of Louisiana.