Brick, the German Shepherd, will be used as a courthouse therapy dog.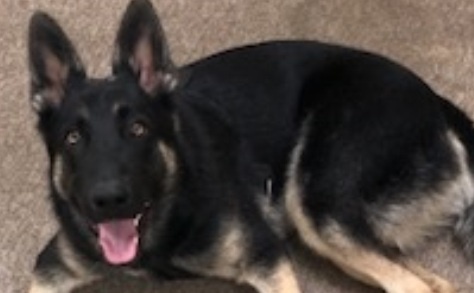 Photo Courtesy of Jefferson County Probation Office
(Madison, Ind.) - Jefferson County Probation Office is gaining a new furry employee.
Yesterday during the Jefferson City Council meeting the board approved the funding for Brick, the German Shepherd's, training to become a courthouse therapy dog.
Judge Mote along with Jenny Applegate, Juvenile Probation Caseload, and Julie Mitchell, Chief Probation Officer, presented the idea last fall to the board and recently received approval.
Training for Brick will cost around $2,300 and will be fully funded by using probation user fees, not tax dollars.
As for vet bills and housing Applegate along with her husband will take on those fees.
Brick, will be assisting the court in cases involving children to help make them feel more comfortable talking about their situations.
He will also be assisting during depositions and cases where Judge Mote will be talking to a child in the office.
Brick has already been making office visits and has been helping those who need him.
"Brick has not had any training in this area as of yet, however, we are seeing more and more adults with mental health issues in our office and can see a calming effect just from Brick sitting by them and letting them pet him," says Mitchell.
K9's like Brick have already been implemented into the court system in Delaware County, Indiana and have been reported by the Muncie Journal to be " a very great asset to the children there."
Along with his job as a therapy dog, he will also be used as security since by nature German Shepard's are very protective of their people.
Brick, will soon start his training and will become a full-time employee of the Jefferson County Probation Office.