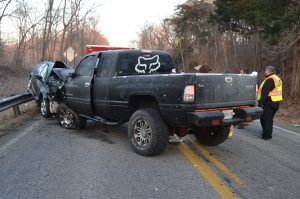 Jennings Co. Sheriff's Department
Highway was close for nearly two hours
A North Vernon woman was killed in a Monday morning crash in Jennings County.
Authorities say the crash was at the Jennings/Ripley County line on US 50 E.
The Jennings County Sheriff's Department says that a pickup driven by 27-year-old Brittany Comer, of Holton, was traveling west when her vehicle sideswiped an eastbound pickup driven by 41-year-old Jason Hamm.
Investigators say that Comer's truck continued left of center, striking a car driven by 44-year-old Michelle Hoover, of North Vernon, head-on.
Hoover was pronounced dead at the scene. Authorities say Hamm was uninjured. Comer was taken by personal auto to the hospital for minor injuries.
US 50 was closed at the accident scene for nearly two hours.