Charlestown Police Officer
A police officer has died in a crash east of Scottsburg.
The crash was reported around 11:30 p.m. last night, near the intersection of State Road 3 and State Road 56 in Scott County.
The agency of the officer involved in the wreck has not been confirmed, or what led up to the crash.
Indiana State Police confirmed one police officer died. They have not released the name of the officer or any further information.
Multiple agencies responded to the crash site.
-UPDATE-
The accident was the result of a pursuit involving a suspect vehicle and the Charlestown City Police Department.
The preliminary investigation reveals that the pursuit began near Charlestown when the Officer attempted to stop a vehicle for a traffic violation.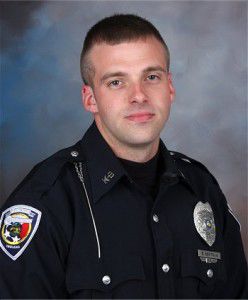 (Charlestown Police Department Photo)
The pursuit continued north on State Road # 3 and approached the east intersection of State Road # 3 and State Road #56 east of Scottsburg. At that time, the officer's vehicle crossed over State Road #56 and left the roadway, striking a tree in the front yard of a nearby residence claiming the life of Officer 33-year-old, Benton Bertram a nine-year veteran of the Charlestown City Police Department.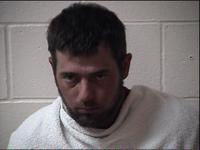 (Scott Co. Sheriff's Department Photo)
The suspect vehicle and the driver, Benjamin Eads, 35, from Freedom, Indiana, were later located and apprehended in Clark County. Eads is in the Scott Co. Jail.
Currently, the crash and pursuit are still under investigation.