Football, Boys Tennis, Volleyball
FRIDAY, AUGUST 23rd:
FOOTBALL FRIDAY NIGHT:
Carroll Co. picked up the first win for new coach Justin Franklin as the Panthers defeat 1A #10 Ludlow 14-12
Madison also under a new coach, Leroy Wilson, trailed after three 26-10 made a comeback in the 4th but fell to Paoli 34-26
Switzerland County's Damion Courter started the season strong with 6 TD's to lead the Pacers to a opening night win over Crawford Co. 40-12
Gallatin Co. was shutout in their opener at Pendleton Co. 46-0
HIGH SCHOOL BOYS TENNIS:
Madison fell 5-0 to Bloomfield and 4-1 to Bedford North Lawrence. Quinten Humes picked up the lone win at #2 singles against BNL6-3, 6-4
Ryan Thurston picked up his 5th win of the season as the former Madison Cub pitched one shutout inning as the South Shore Railcats defeat the St. Paul Saints 3-2
SATURDAY, AUGUST 24th:
HIGH SCHOOL VOLLEYBALL:
Seymour over Madison 3-0. 25-11, 25-18, 25-18
Christian Academy of Madison falls to Cannelton 3-2
Southwestern JV team placed 2nd in the ORVC JV Tournament. The Rebels beat Jac-Cen-Del (23-25, 25-15, and 15-7) and South Ripley (25-20, 25-19) before losing to Milan in the championship game 14-25 and 15-25.
HIGH SCHOOL BOYS SOCCER: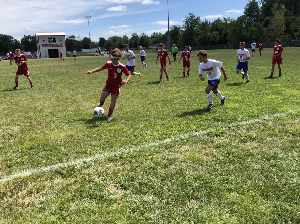 (Madison Athletics Facebook photo
Madison over Silver Creek 2-1
Carroll Co. drew with Bullitt Central 1-1
HIGH SCHOOL GIRLS SOCCER:
Carroll Co. falls to Fleming Co. 2-0
Silver Creek over Madison 1-0
HIGH SCHOOL CROSS COUNTRY:
The Madison Invitational kicked off the cross country season for the Lady Cubs. There were only two runners for the Lady Cubs. Sisters, Clare Wilber and Isabel Wilber, represented the Lady Cubs in the season opener and finished 4th and 6th respectively. Clare finished in 23:14 while Isabel finished in 24:35. Corydon Central won the meet with South Central second.
Southwestern boys finished 5th at the Southwestern (Shelby) Small School Invitational. Gavyn Mundt was 24th to lead the Rebels. Boys results
Southwestern girls finished 14th at the Southwestern (Shelby) Small School Invitational. Kirsten Geary finished 61st to lead the Lady Rebels. Girls results
Trimble Co. boys finished 3rd in the Trimble County Backwoods Invitational. Alex Seward was 3rd to lead the Raiders. Carroll Co. also took part but did not have a complete team. Ravi Patel was 34th for the Panthers. Boys Results
Trimble and Carroll Co. girls teams took part in the Trimble County Backwoods Invitational but did not compete as complete teams. Eliza Weston was 2nd over all to lead the Lady Raiders. Andrea Searcy was 23rd for the Lady Panthers. Girls Results
HIGH SCHOOL BOYS TENNIS: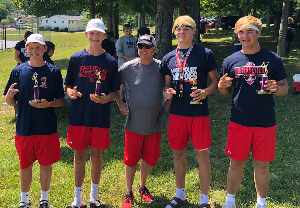 (Southwestern Tennis Facebook photo)
Southwestern's Landon and Jordan DeAtley won the #1 doubles and Foster Mefford and Zach Cole won the #2 doubles tournaments at Eastern Pekin Invitational. Rebels tied Henryville for 1st but Hornets won the championship based on #1 Singles tiebreaker.
HIGH SCHOOL GIRLS GOLF:
Madison shot a 422 to finish 5th at the Floyd Central Inviational. Kera Eder shot a 82 to lead the Lady Cubs.