Report missing high school sports scores and stats to news@953wiki.com
FRIDAY NIGHT
BASEBALL: 3A No. 8 Madison defeated Switzerland Co. 9-0 in baseball. Liam Murphy 2-2, 2B Colin Yancey 2-3, 2R Zander Vonch 1-4, 2B, 2RBI Clint Hearne 1-2, 2R Mitchell Cammack 1-3, RBI, 2R Myles Barnes 1-3, RBI, R Liam Murphy (W) 5IP, 0R, 1H, 4K, 2BB Cubs now 8-2. For Switzerland: Jackson Sparks 1-2 Bryce Jones 1-3 Evan Halstenberg (L) 3IP, 3R, 5H, 0K, 1BB Pacers now 3-4.
Southwestern falls 7-0 to 3A No. 7 Silver Creek in baseball. Jamison Lewis 2-3, 2B William Stockdale 1-3 Gage Ponder 1-3 Tanner Jacobs 1-3 Jordan DeAtley (L) 6IP, 5ER, 9H, 0K, 5BB Rebels now 7-3.
Shawe falls 14-1 to Rising Sun in baseball. Jacob Hertz 2-3, 2B, R Tyler Hill 1-3 Hunter Kennett (L) 2IP, 6R, 5H, 4K, 3BB Shawe now 3-4.
SOFTBALL: Madison softball beats Southwestern 23-8. Lexi Sullivan 4-5, 2B, 3BI, 3R Cam Mann 3-4, HR, 5BI, 4R Patty Johnson 3-5, 3B, 2B, 3BI Caity Dailey 3-5, 2BI Ava Armbrecht 2-4, 2B, 3BI Molly Armbrecht 2-5, BI Kallie Eder 2-4, 2B, BI Ava Armbrecht (W) 5IP, 5ER, 13H, 5K Cubs now 6-8.For Southwestern: Emily Hatton 3-4, R Morgan Mahoney 2-4, 2B, 2RBI, R Ashley Fulton 2-3, 2B, 2R Trinity McLain 2-4, 2RBI Breona Brewer 1-3, RBI, R Riley Scroggins 1-4, R Chloey Leach 1-4, R Nataley Morrison 1-4 Chloey Leach (L) 0.2IP, 9ER, 7H, 1K, 4BB Rebels now 7-6.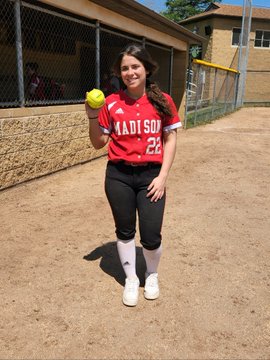 Trimble Co. beats Austin 6-1 in softball. Raiders had only 1 hit, but walked 7 times. Emma Ginn 1-3, RBI, R Kaylee Payton 0-3, 2R McKenna Ritchie (W) 4IP, 0ER, 4H, 4K, 2BB Raiders now 11-6.
MADISON TRACK AND FIELD AT BROWNSTOWN THURSDAY NIGHT
SWIMMING : Congratulations to Madison' Leighton Wielgoszinski signs with Bentley for swimming.
SATURDAY SCORES:
TENNIS:
The Lady Rebel tennis team captured their third consecutive Southern Indiana Tennis Conference championship on Saturday at the Hanover College tennis complex. Julia Worcester at two singles, Syrenia Hardy at three singles, Peyton Howell and Larissa Garcia at two doubles all went 3-0 on the day. Elle Ford, Chole Adcock and Audrey Bare all went 2-1 on the day to all capture All Conference honors. Lina Leatherman and Jessica Perez of Shawe went 2-0 on the day to garner All Conference honors as well. The girls just continue to play really great tennis. We had a couple of hiccups with Elle at one singles after winning her first set 6-2 she ended up falling to Elania Baird from CAI in three sets. Same situation at one doubles with Audrey and Chloe falling to Shawe in a third set tie breaker. Julia, Syrenia and two doubles continue to play outstanding for us. Currently 11-0 on the season we have another big week coming up with four matches and we must stay focused on what we want to accomplish for this season. Julia and Syrenia remain undefeated on the season at 11-0. Im so proud of these young ladies as it was a really warm day and we had to play three matches to win and they really dug in and got it done. The sky is the limit as to what they want to accomplish the rest of this season with sectional quickly approaching that is obviously our next big goal. Round 1 SW 4 – CAI 1 Milan 3 – Trinity Lutheran 2 Round 2 SW 4 – Shawe 1 Consolation Bracket Trinity Lutheran 3 – CAI 2 Shawe 4 – Trinity Lutheran 1 Championship SW 5 – Milan 0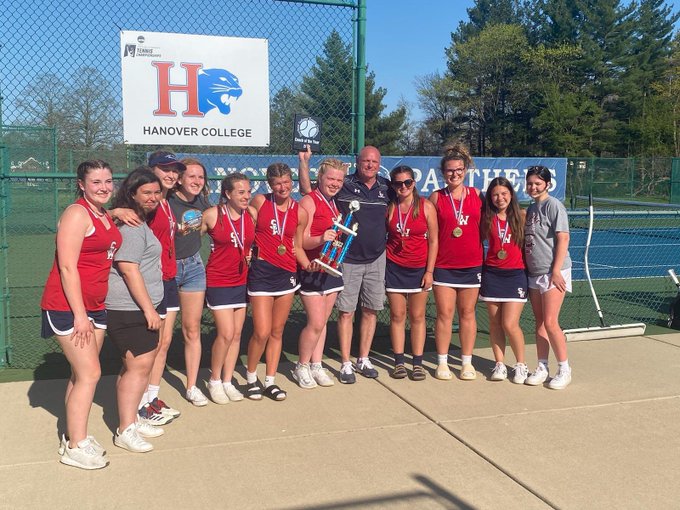 Match against Jennings County (location at Jennings County)
Overall: 1-4 (Madison lost)
1 singles
Anna Bluemm (11) v. Reagan Brown (12): 2-6, 1-6 (loss)
2 singles
Trinity Stoner (12) v. Tatum Brown (10): 1-6, 3-6 (loss)
3 singles
Claire Slygh (10) v. Trina Collins (10): 1-6, 4-6 (loss)
1 doubles
Taylor Harsin (12) / Erin Burkhardt (11) v. Lucy Brown (10)/Maria Ecker Alberti (10): 6-7 (3-7) (loss)
2 doubles
Maddie Cline (12) / Addison Mundt (12) v. Caitlyn Schuck (12)/Amy Vogel (12): 6-2, 7-6(11-9) (win)
BASEBALL: Carroll Co. falls 12-3 to Shelby Co. in baseball. Landon Isaacs 1-2, HR, 2RBI, R Luke Staley 1-3, 2B Andrew Shaw 1-1, RBI, R Jaxon Hewitt 1-3, R Logan Gilbert 1-3 Lucas Shepherd (L) 4IP, 4ER, 6H, 1K, 4BB Carroll is now 8-8.
Trimble Co. baseball beats Frankfort Christian 13-3. Dylan Penick 4-4, 3RBI, R Ethan Horn 2-3, 2B, 3RBI, 3R Spencer Stark 2-3, 3RBI, 2R Dalton Penick 1-3, HR, 2RBI J.T. Wilcoxson 1-2, 2R Jessup Smith 1-3, 2R Dylan Penick (W) 5IP, 3ER, 6H, 5K, 1BB Raiders now 4-8-1.
Shawe beats Crothersville 15-1 in baseball. Hunter Kennett 3-4, RBI, 3R Wyatt Nichter 2-3, 2B, 3R Philip Kahn 2-4, 2RBI, 2R Jacob Hertz 1-4, 2B, RBI, 2R Tyler Hill 1-3, 2RBI, 2R Christian Whitham 1-4, 2RBI, 2R Jacob Hertz (W) 5IP, 1R, 1H, 12K, 0BB Shawe now 4-4.
Switzerland Co. baseball falls 12-0 to South Dearborn on a no-hitter. Kaleb Koons (L) 4IP, 6ER, 5H, 1K, 7BB For SD: Adam Kunkel (W) 4IP, 0R, 0H, 7K, 0BB Switzerland now 3-5.
3A No. 8 Madison falls 11-1 to 2A No. 9 Providence. Ben Orrill 2-3, HR, 2B, RBI, R Drew Forner 1-2 Zander Vonch 1-3 Drew Forner (L) 3.1 IP, 2ER, 2H, 2K, 2BB Madison now 8-4 on the season.
SOFTBALL: Lily Sparks is perfect in Switzerland's 9-0 softball win over New Washington! Sparks (W) 7IP, 0R, 0H, 18K, 0BB Jessie Duvall 2-4, HR, 3B, 2RBI, 2R Lily Sparks 2-4, 3B, 2R Maddie Duvall 2-5, 2B, 3R Macy Cook 2-4, RBI, R Kayla Cutter 1-3, 2B, R Bri Stow 1-3, RBI Pacers now 4-2.
Madison softball falls 5-1 to Salem. Casey Dyer 2-3 Lexi Sullivan 1-3, HR, RBI, R Molly Armbrecht 1-4, 2B Cam Mann 1-4 Patty Johnson 1-3 Caity Dailey 1-3 Kallie Eder (L) 6IP, 0ER, 4H, 5K, 5BB Cubs now 6-9 on the season.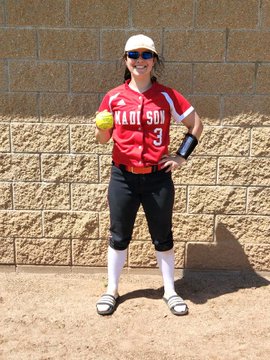 Southwestern softball falls 16-2 to South Ripley in game 1. Ashley Fulton 1-3, HR, 2RBI, R Trinity McLain 1-3 Ashley Fulton (L) 4.1 IP, 4ER, 10H, 4K, 1BB Rebels now 7-7 (1-1 ORVC)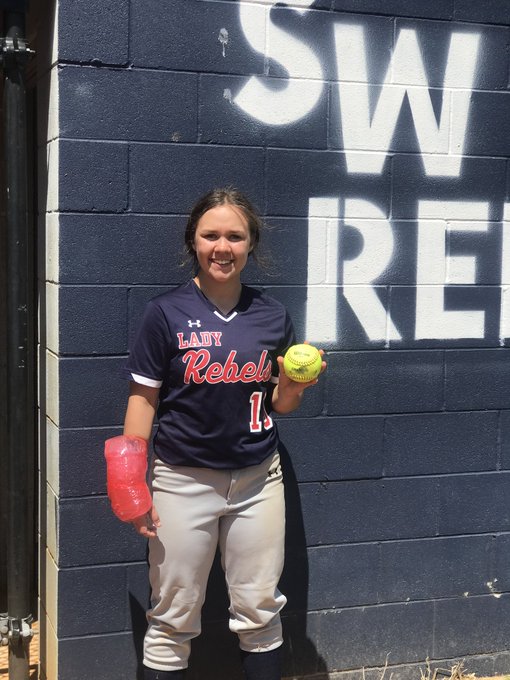 Southwestern softball falls 13-7 to North Harrison in game 2. Ashley Fulton 3-3, 3B, 2B, 3RBI, R Morgan Mahoney 2-4, 2RBI Chloey Leach 2-3, 3R Nataley Morrison 2-5, RBI Trinity McLain 1-4, RBI Breona Brewer 1-4, R Breona Brewer (ND) 7IP, 4ER, 12H, 3K Rebels now 7-8.