Report any missing sports scores to news@953wiki.com
CARROLL COUNTY HIRES VETERAN COACH AS NEW FOOTBALL COACH TO REPLACE JUSTIN FRANKLIN
Veteran coach Lonnie Oldham is coming to lead the Carroll County Panthers football team. Oldham has 27 years of coaching experience, which includes a 4A State Coach of the Year recognition in 2003. Having coached at both college and high school levels, Oldham has led teams in Oldham County (North Oldham and Oldham County), Jeffersonville (Jeffersonville High School), and Jefferson County (Male, Western Hills, Seneca, and St. Xavier).
"Coach Oldham has a history of winning football games and of helping young players grow to their full potential," said Beau Arney, Carroll County School District athletic director. "We are thrilled to have him lead our football program and to help us make our high school and our school district be the best that they can be."
As a player, Oldham played his first two years at the University of Louisville under the leadership of the legendary coach Howard Schnellenberger. He then transferred to Hanover College under the leadership of coach Wayne Perry. Oldham went on to coach at the collegiate level at Fairmont State University and then at the high school level at St. Xavier, where he was part of three state championship runs.
"I was extremely fortunate as a player and as a young coach to be part of the game under the leadership of amazing head coaches," Oldham said. "To the extent that I've been successful as a coach myself, it is due to the strong foundation and leadership that I received early in my career. I hope that I can provide that same foundation to my own players."
In addition to the three state titles and Coach of the Year distinction, Oldham led Seneca High School to the district championship in 2003, which included the team being ranked number one in the KHSAA state rankings for the first time in school history. Additionally, he led Oldham County High School to the Final Eight in 2007 and Jeffersonville High School to the Sweet 16 in 2012-2013.
Oldham is a 1991 graduate of Hanover College and earned a master's degree in education from the University of Louisville in 1995. In addition to his coaching experience, he has served as a special education teacher and behavior coach since 1993.
TUESDAY 4/26/22 RESULTS
Southwestern baseball beats Switzerland Co. 8-5. Zach Cole 2-3, HR, 2RBI, 3R Jamison Lewis 2-3, 2B, 2RBI, R Jordan DeAtley 2-4, 2B, 2R William Stockdale 1-4, 2B Mason Lichlyter 1-3, 2B, RBI Gage Ponder 1-3, 2RBI Zach Cole (W) 6IP, 1ER, 4H, 7K, 3BB Rebels now 8-3 (4-1 ORVC) For Switzerland: Kaleb Koons 2-4, 2B, RBI, R Cam Craig 2-4, 2B, 2B, R Evan Halstenberg 1-3, 3RBI Bryce Turner 1-3 Jackson Sparks 1-4, R Ben Hicks 1-3 Roman Hite (L) 5IP, 6ER, 7H, 3K, 2BB Pacers are now 3-6 (1-2 ORVC)
Trimble Co. baseball rolls over Gallatin Co. 16-2 on a Dalton Penick no-hitter! Penick (W) 5IP, 14K, 2BB Ethan Horn 3-5, 2 2B, 4BI Spencer Stark 3-4 JT Wilcoxson 2-4, 2B, 2BI Dylan Penick 2-3, 3BI, 3R Dalton Penick 2-3, 2B, BI Raiders now 5-8-1 (2-5 NCKC, 2-4 31st Dist.)
Madison falls 3-1 to Charlestown in baseball. Liam Murphy 1-3, 2B, RBI Zander Vonch 1-3 Ben Orrill 1-3 Craig Demaree 1-3 Ashton Carie 1-3 Ashton Carie (L) 4IP, 0ER, 4H, 4K, 1BB Cubs now 8-5.
Carroll Co. softball falls 21-13 to Owen Co. Bailey Stewart 2-4, 2 2B, 2RBI, R Mallory Coghill 2-4, 2B, 3RBI Alyssa Dermon 1-3, 2RBI, R Jordyn Shepherd 0-3, 3R Madi Groves (L) 7IP, 3ER, 9H, 1K, 7BB Carroll now 1-8 (0-4 NCKC, 1-3 31st District)
Carroll Co. baseball falls 10-6 to Owen Co. David Smith 2-4, 2B Andrew Shaw 2-3, 2R Jaxon Hewitt 1-3, HR, RBI Landon Isaacs 1-4, 2RBI Luke Staley 1-3, RBI Landon Isaacs (L) 2IP, 2ER, 3H, 1K, 2BB Carroll is now 8-8 (2-0 NCKC, 4-1 31st District)
Carroll County's Jaxon Hewitt has been named the 31st District Male Scholar of the Year. Other honorees: DoVante Saunders, Eminence, Male Athlete of the Year; Grace Adams, Henry County, Female Athlete of the Year; and Lexi Moiore, Owen County, Female Scholar of the Year.
MADISON TRACK AND FIELD AGAINST OLDENBURG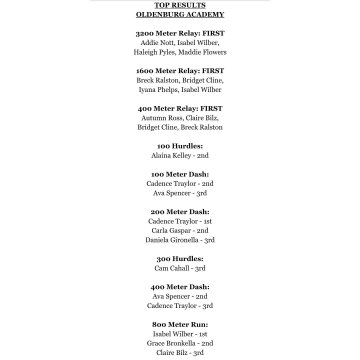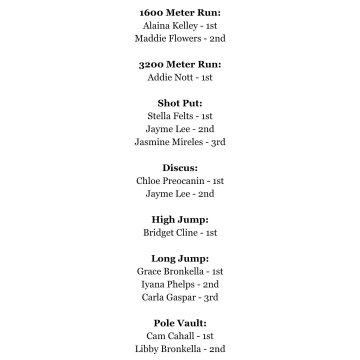 Madison Tennis against Hauser
Overall: 2-3 (Madison lost)
1 singles
Anna Bluemm (11) v. Bella Kilps (10)): 2-6, 2-6 (loss)
2 singles
Trinity Stoner (12) v. Addyson Barriger (10): 6-2, 6-1 (win)
3 singles
Claire Slygh (10) v. Lydia Jordan (10): 4-6, 6-7 (2-7) (loss)
1 doubles
Taylor Harsin (12) / Erin Burkhardt (11) v. Gabby Johns (12)/Charlie Clark (11): 4-6, 3-6 (loss)
2 doubles
Hailey Jenkins (12) / Addison Mundt (12) v. Mattie Foster (10)/Abby Blair (10): 6-2, 7-5 (win)
The Lady Rebels traveled to Milan on Tuesday. The results were the same as the Conference championship on Saturday as the ladies came away with a 5-0 win. We continue to play well at every position. Julia and Syrenia stayed unbeaten of the season with a couple of straight set wins. They are both hitting the ball with pace and consistency and just have been very active for us all season. Elle is starting to get back in the groove after missing a couple of matches and we are certainly going to need her to play well for us the next three weeks to be successful. Chloe and Audrey have also been solid all season and their loss to Shawe on Saturday at the tournament was disappointing, but I know they will bounce back strong for us to finish the season. At two doubles we mixed it up a little against Milan and let Autumn Gross jump in and play with Peyton as she has been hitting the ball very well and played a good match last night. Peyton has been a good anchor at two for us with only one loss on the season. With a tough schedule coming up including matches with possible sectional opponents Madison and Greensburg along with always solid Lawrenceburg we really need to focus and make sure we are peaking at the right time. Now 12-0 on the season we visit Madison today and travel to Austin tomorrow.
Varsity
No. 1 singles – Elle Ford (SW) defeated Karley Bushhorn (M) 6-0, 6-0.
No. 2 singles Julia Worcester (SW) defeated Ava Homert (M) 6-1, 6-0.
No. 3 singles Syrenia Hardy (SW) defeated Margot Keller (M) 6-0, 6-2.
No. 1 doubles – Chloe Adcock & Audrey Bare (SW) defeated Riley Clark & Ariel Hassig (M) 6-2, 6-1.
No. 2 doubles Peyton Howell & Larissa Garcia defeated Isabel Kroner & Allyssa Phelps (M) 6-4, 6-4.
Reserve
No. 1 singles Larissa Garcia (SW) defeated Kayla Walke (M) 6-1.
No. 2 singles Leni Knozack (SW) defeated Kaitlyn Carpenter (M) 7-6.
No.3 singles Adrea Earl (SW) lost to Ellana Jutzs (M) 1-6.
No. 1 doubles – Natalie LaRue & Emily Keeton (SW) lost to Ellie Knecht & Olivia Deaton (M) 3-6.
No. 2 doubles – Afton Kuppler & Cambryn Bryant (SW) defeated Grace Stapleton & Shelby Williams (M) 6-3.
WEDNESDAY 4/27/22 RESULTS
Switzerland Co. softball beats Rising Sun 4-2. Maddie Duvall 3-3, RBI, R Jessie Duvall 1-3, 2B, 2R Bri Stow 1-3, 2RBI Aryanna Cunningham 1-1, RBI Lily Sparks (W) 7IP, 0ER, 4H, 6K, 0BB. Pacers now 6-2 (3-1 ORVC).
Trimble Co. softball knocks off Milan 7-4. Kaylee Payton 1-3, 2B, 2RBI, R Lauren Haney 1-2, 2R Emma Ginn 1-2 Hannah Chilton 1-3, RBI,R McKenna Ritchie (W) 7IP, 2ER, 6H, 8K, 4BB Raiders are now 13-6.
Carroll Co. softball falls 10-0 to South Oldham. Tori Brandon 1-2, 3B Jordyn Shepherd 1-1 Madi Groves (L) 4IP, 4ER, 7H, 2K, 1BB Carroll now 1-9.
Southwestern softball falls 10-7 to Jac-Cen-Del. Ashley Fulton 2-3, 3B, 3R Morgan Mahoney 2-3, 2RBI, R Riley Scroggins 1-3, RBI, R Breona Brewer 1-4, RBI Trinity McLain 1-4 Ashley Fulton (W) 5.2IP, 6ER, 11H, 8K Rebels now 7-11 (1-4 ORVC)
Madison softball falls 8-0 to 3A No. 4 Scottsburg. Molly Armbrecht 4-4 Cam Mann 2-4, 2B Keara Eder 1-4 Kallie Eder 1-4 Lexi Sullivan 1-2 Caity Dailey 1-3 Ava Armbrecht (L) 5.2IP, 5ER, 11H, 2K, 4BB Cubs now 6-10.
Southwestern baseball beats Jac-Cen-Del, 6-0 on Jordan DeAtley's 1-hitter. William Stockdale 1-2, RBI, 2R Jordan DeAtley 1-2, R Jamison Lewis 1-4, R Keegan Gross 0-2, 2RBI Jordan DeAtley (W) 7IP, 0R, 1H, 15K, 2BB Rebels now 9-3 (5-1 ORVC).
Switzerland Co. beats Rising Sun 6-2 in baseball. Kaleb Koons 1-2, 3B, 2RBI, 2R Roman Hite 1-2, R Jackson Sparks 1-3 Cam Craig 1-3 Austin Bosaw 1-4, R Bryce Turner (W) 7IP, 2ER, 3H, 14K, 4BB Pacers now 4-6 (2-2 ORVC)
Shawe baseball falls 4-3 to Milan. Philip Kahn 2-3, RBI Wyatt Nichter 1-3, 2RBI Tyler Hill 1-3 Eric Liu 1-3, R Wyatt Nichter (L) 6.2IP, 2ER, 12H, 8K, 3BB Hilltoppers now 4-5 (0-4 ORVC)
Madison baseball beats South Ripley 26-2. Craig Demaree 2-3, 3BI, 3R Jackson Bear 2-2, 2B, 2BI Mitchell Cammack 2-4, 2BI, 3R Liam Murphy 2-3, 3BI, 3R Holden Gluba 2-4, BI, 3R Ben Orrill 1-1, HR, 4BI, 3R Clint Hearne 1-3, 2BI Bodie Harsin (W) 3IP, 0R, 2H, 5K, 2BB Cubs now 9-5.
MADISON TRACK AND FIELD AT SEYMOUR INVITATIONAL
Congratulations Ethan, James Thomas and Tate! They earned #NCKC All Conference honors in boys basketball!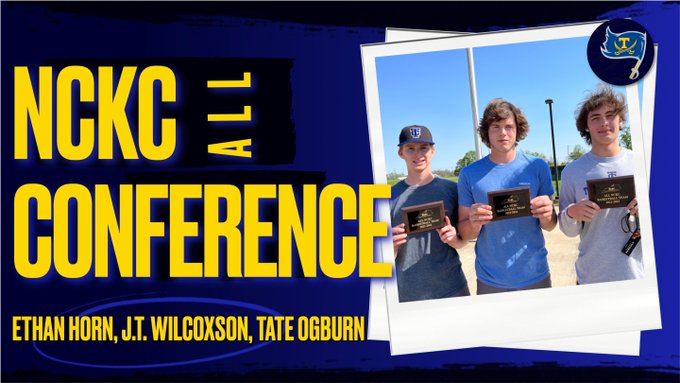 Congratulations to Jolie, Addison and Gracie for making #NCKC All Conference Basketball! Way to go ladies!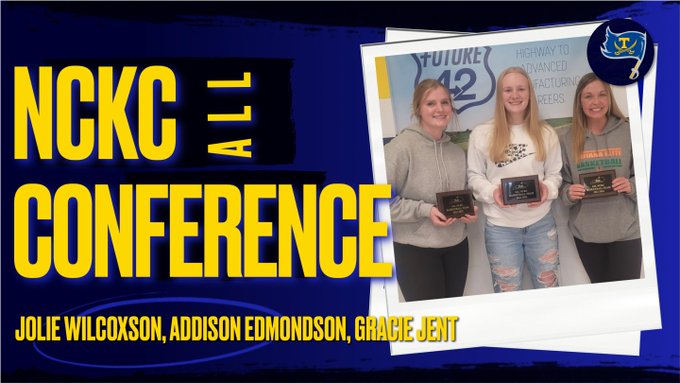 The Madison Junior High Track and Field teams need help locating records! At some point these records were lost through the different coaches. These are the boys records I have thus far. I do not have any girls records. Any information is helpful!