This closer will be til Mid October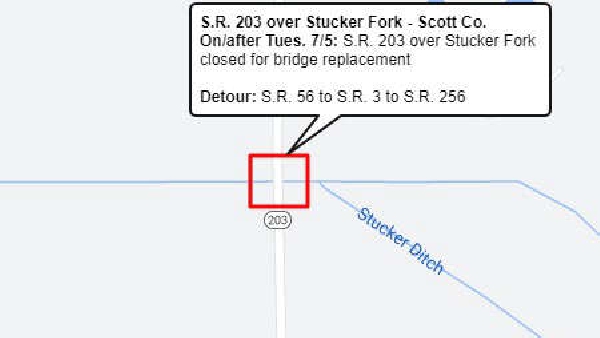 SCOTT COUNTY, Ind.— Indiana Department of Transportation contractor E&B Paving Inc. plans to close S.R. 203 on or after Tuesday, July 5, to complete a bridge replacement project over Stucker Fork in Scott County. Contractors will be working north of S.R. 56 through late October. Traffic will be detoured along S.R. 56, S.R. 3 and S.R. 256.
The $1.4 million contract was awarded to E&B in January 2022. INDOT reminds drivers to slow down, avoid distractions, and stay vigilant of workers and equipment when traveling through active construction zones. All work is weather-dependent and schedules are subject to change.