Sharpen their handwriting skills
It's that time of year when students across the country sharpen their pencils and their handwriting skills to compete in the Zaner-Bloser National Handwriting Contest. Now in its 28th year, the most prestigious and recognized national handwriting contest in the country offers students the opportunity to practice and perfect their handwriting with the potential to earn some serious bragging rights. Students in kindergarten through second grade compete in the manuscript (print) category, while students in grades three through eight compete in the cursive category. All students write the required sentence, "The quick brown fox jumps over the lazy dog," because it contains every letter of the alphabet. Judges select winners based on the shape, size, spacing and slant of their letters.
Participating public and private schools choose a winner in each grade. School grade-level winners then compete against each other at the state level. Canaan Community Academy (CCA) students Excel! Two students are state level winners in the Zaner Bloser National Handwriting contest.This contest receives 280,000 entries annually; promoting good penmanship and celebrating handwriting. The entries submitted are judged on letter formation, size, spacing, line quality and slant. The contest not only recognizes the students' achievements; it recognizes the teachers' too. This year, Canaan Community Academy has state level winners for manuscript and cursive handwriting. The winners were presented with the awards and honored during the 3rd nine weeks Cougar Celebration.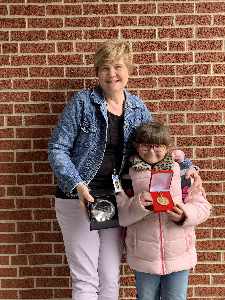 First grade teacher, Karen Wright was recognized, receiving an etched glass diamond. Her student, Zoi Delucio is the state level manuscript winner. She was presented with a medal commending her manuscript handwriting. Fourth grade teacher, Angie Hutchinson, was recognized too. She also received an etched glass diamond award. Her student Kaylee Seebauer, is the state level cursive writing winner. She received a medal commending her cursive writing. State level winners in each grade move on to the national competition, where they vie for the chance to be named the Grand National Champion. While the contest spotlights the art of handwriting, it also brings attention to the science behind learning and using cursive and manuscript. Research has shown a strong link between direct handwriting instruction and literacy skills.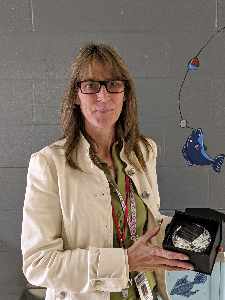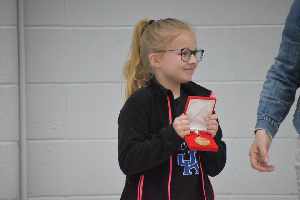 "Students who have legible handwriting gain lifelong advantages in their daily school work, on standardized tests, and throughout their high school, college and career experiences," said Zaner-Bloser President Lisa Carmona. "Since we started this contest 28 years ago, the number of participants from schools across America has increased. That great response shows that teachers and their students recognize the advantages handwriting has on their overall academic success." Zaner-Bloser estimates that more than 3.5 million students have participated in the contest since its inception.
This is the fifth consecutive year that Canaan Cougars have been recognized as state level winners. Handwriting continues to be an integral part of Canaan Community Academy research based curriculum. CCA knows it helps students cognition in ways typing/keyboarding cannot. Teaching handwriting (manuscript and cursive) improves our students' retention and comprehension, engaging their brains on a deeper level, letting them Explore, Experience, and Excel.