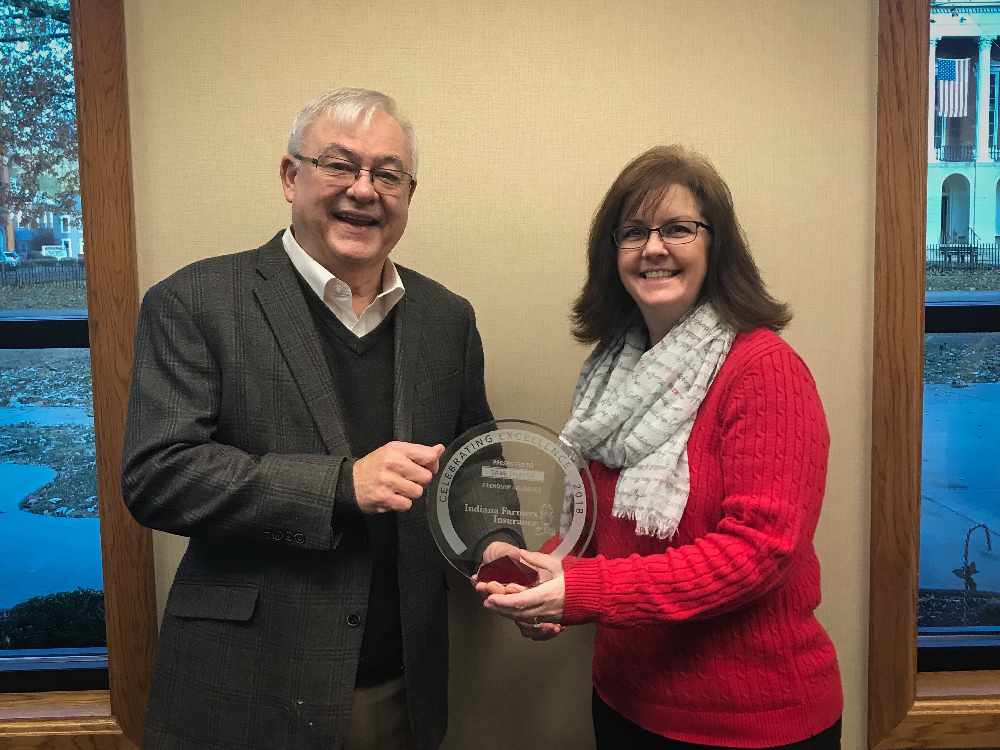 Indiana Farmers Insurance Field Marketing Manager Bruce Wissel presents the Circle of Excellence Award to Friendship Insurance Agent Tami Thayer
Friendship Insurance's Vevay Office
Friendship Insurance Agent Tami Thayer recently received Indiana Farmers Insurance's Circle of Excellence Award. Recipients are nominated by Indiana Farmers employees and chosen based on their professionalism, focus on the customer, and knowledge of Indiana Farmers Insurance products and services.
Thayer has worked 20 years in the insurance industry, spending the last decade with Friendship Insurance's Vevay Office. Her unwavering commitment to those she serves and works with is undoubtedly one reason she was selected.
"Tami has earned praise from our staff for her production, underwriting skills, attention to accuracy, and promptness in response to our correspondence," said Indiana Farmers Insurance Field Marketing Manager Bruce Wissel. "She is always pleasant to talk with and helpful in finding the right solutions. She understands the importance of providing accurate information and looking out for the interests of the insured, agency, and company."
The announcement came as no surprise to Friendship leadership and Thayer's coworkers.
"This award is recognition for what we and our customers already know," Friendship CEO Chris Meyer said. "Tami has a deep knowledge of the world of insurance as well as a solid work ethic, which she shares with her customers and our community."
"Tami is very thorough and takes pride in her work," said Friendship Insurance Agency Sales Manager Tom Lewis. "She is very pleasant to work with and truly values the relationships with her customers. She is doing a great job."
This recognition did catch Thayer off guard. She has appreciated the kind words offered by those at Indiana Farmers and her Friendship family.
"I am very humbled because I come to work every day to do my job," said Thayer. "My clients are my family, my friends, and my neighbors. I always want to do my best for them. Receiving this award helps me know I am doing a good job for our companies too. The excitement of all this and all the well wishes from my coworkers makes me feel like Ed McMahon has shown up at my house with a large check, flowers, and balloons. It is awesome."
Friendship Insurance is a local, independent insurance agency working with the nation's top insurance companies including Indiana Farmers Insurance. You can find Friendship Insurance offices inside the branches of The Friendship State Bank throughout southeastern Indiana.