He provided updates on several different items within the state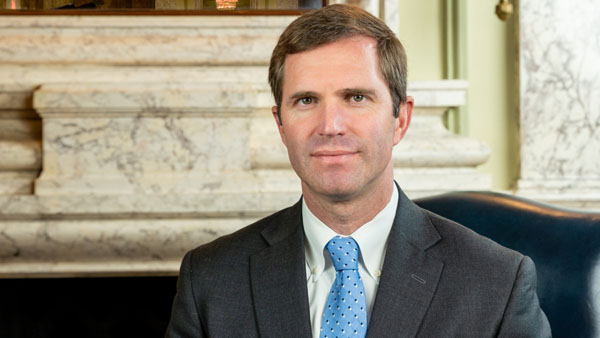 FRANKFORT, Ky. (July 21, 2022) – Today, Gov. Andy Beshear updated Kentuckians on the lowest unemployment rate in state history for the third consecutive month, a surplus in the General Fund budget, efforts to provide cleaner water, food benefits, work to address the water shortage in the City of Marion and COVID-19. He also named his communications director, Crystal Staley, as this week's Team Kentucky All-Star.
Unemployment Rate Reaches Another Historic Low
The Governor reported that the commonwealth's June 2022 unemployment rate hit a new historic low of 3.7%, resulting in three back-to-back months of the lowest unemployment rates in Kentucky's history.
"While our families face a lot of challenges today – from the pandemic to the deadliest tornado we have ever seen, inflation and a war in Ukraine – it's important we remember that we are tough and we must have faith," Gov. Beshear said. "The challenges of today are what we have to push through to get to a bright and optimistic tomorrow where we are seeing more new jobs, investments and better wages than we have ever seen."
The number of people employed in June increased by 1,085 to 1,986,909 while the number of unemployed decreased by 1,811 to 77,193.
Fiscal Year 2022 General Fund Budget Surplus Exceeds $1 Billion
For the second year in a row, Kentucky's General Fund budget surplus has exceeded $1 billion. The surplus for the year that just ended, fiscal year 2022, is $1,033,445,597.
Revenues came in $945 million higher than budgeted, the second-highest revenue surplus ever – surpassed only by last year's record amount. Lower spending than budgeted accounted for most of the rest of the surplus.
The budget bill includes a surplus spending plan. Nearly all of the $1 billion surplus will go into Kentucky's Rainy Day fund. That will bring the fund up to a record balance of $2.7 billion. The Rainy Day fund balance was $129 million when Gov. Beshear took office.
The Road Fund ended the year with a $70.4 million surplus. That is due to the General Assembly not appropriating all of the official revenue estimate. The $70.4 million will be directed to spending on projects in the 2022-2024 biennial highway construction program.
Cleaner Water Projects
Today, the Governor announced $30 million in funding to support 29 projects that will provide clean drinking water and improve water systems for 1,245 households across the commonwealth.
The Governor also announced that an additional $250 million from his Cleaner Water Program is now available for local utilities to submit projects for the second round of funding.
The Cleaner Water Program is part of Gov. Beshear's Better Kentucky Plan, which is creating 14,500 jobs while helping to build better schools, expand high-speed internet, improve infrastructure and deliver clean drinking water and quality sewer systems across Kentucky.
Supplemental Nutrition Assistance Program Benefits
Gov. Beshear addressed inquiries from Kentuckians about the Supplemental Nutrition Assistance Program, or SNAP. During the last General Assembly session, the state Senate and House passed Senate Joint Resolution 150, significantly reducing food benefits. The Governor vetoed the resolution, but it was overridden.
The resolution cut roughly 611,000 Kentuckians off from additional SNAP support. The decision to cut SNAP benefits also affected 4,300 business and retailers where SNAP benefits are accepted.
"Hundreds of thousands of Kentuckians, including children and seniors, who get help with food assistance are seeing their benefits plunge, and it is a direct result of actions of our General Assembly this past session. Sadly, the majority of Kentucky lawmakers voted to reduce food benefits, even as our nation struggles with the biggest increase in food costs in decades. Payments to low-income Kentuckians and Kentucky families dropped in May when the General Assembly opted out of an ongoing federal program that made our state eligible for an increase in food-assistance. This resulted in nearly $46 million of additional food dollars per month being lost to Kentuckians," Gov. Beshear said. "It has not only hurt the people in the communities, it has hurt 4,300 businesses and retailers where SNAP is accepted. I vetoed that legislation, I urged them, let's have more compassion than this."
The Governor encouraged Kentuckians impacted by the decline of food assistance to visit kynect.ky.gov and governor.ky.gov/TipsToSave to find additional assistance programs that can help families save.
City of Marion Water Update
Gov. Beshear updated Kentucky families in Marion on his administration's actions to help address the city's water shortage. The Kentucky Division of Emergency Management (KYEM), the Kentucky National Guard, the Division of Water, the Kentucky Transportation Cabinet (KYTC), the City of Marion and the private sector are coordinating daily to bring bottled and raw water to the city and to find short- and long-term solutions to the water emergency.
On Wednesday, six truckloads of water purchased by KYEM were delivered. Teams have also identified and repaired a water line leak saving an estimated 144,000 gallons of water per day. So far, 73,000 gallons of water handed out by the Kentucky National Guard and put directly into the hands of Kentuckians. The City of Marion received 1.75 inches of rain, helping to put an additional four inches in Old City Lake.
Engineering will be done to complete a water connection from the City of Marion to the Sturgis Water Co., which will meet more of the city's water demand. Dye tracing and aerial monitoring are also being conducted by drones to identify blockages hindering hauled water from entering the City Lake. Paducah Water has provided a team to assist with the repair of additional identified leaks in the water system and this team will also provide in-house lab analysis for finished water sampling this week.
Commonwealth Sheltering Program
The Governor and the Commonwealth Sheltering Program, administered through KYEM and KYTC, today reported that all tornado survivors have moved out of Kentucky State Parks. Currently, 86 households are sheltering in travel trailers. A total of 37 households have transitioned out of travel trailers since the Commonwealth Sheltering Program began.
Team Western Kentucky Tornado Relief Fund
Earlier this month, Gov. Beshear announced $3.25 million in funding from the Team Western Kentucky Tornado Relief Fund to the Graves County Grain Assistance Program.
"So many farmers depend on Mayfield Grain to market their grain. It is just devastating looking at the grain bins with the tops ripped off and legs tore down," Graves County farmer Phil Holloway said. "We just knew it wasn't going to be a one- or two-month fix. It was going to be a while."
"Grain is my livelihood. That's the way I make a living. Mayfield Grain being six miles from here is a real key to my operation," Graves County farmer Mitchell Guthrie said. "I'm afraid that without the Granary, some of these mom-and-pop farms would give up. We reached out to the Governor and he was willing to help us. He came up with some ideas to get our grain moved, pay labor and buy fuel. I appreciate the Governor taking time to hear us. That's very important. It's just unreal – the cooperation, and that people still care. That's a blessing to me and I'm proud to be a part of it."
To view the full video, click here.
The Graves County Grain Assistance Program was established when the administration was contacted by Graves County Judge/Executive Jesse Perry and local farmers. The group was concerned about the potential loss of crop yield and sought assistance for local farmers, who are an important part of ensuring the state has an ample grain supply.
Kentucky farmers who conduct business with Mayfield Grain Co. can get more information and apply for assistance here.
Over 150,000 individuals and organizations from all over the world have contributed to the Team Western Kentucky Tornado Relief Fund, raising nearly $52 million to assist in long-term recovery.
To date, more than $42.1 million has been disbursed and pledged from the fund to individual Kentuckians and families as they rebuild from the devastating December 2021 tornadoes. This includes funeral expenses to the families of the deceased, payments to insured and uninsured homeowners and renters and funds to build 300 homes through the help of Homes and Hope for Kentucky, Habitat for Humanity and the Fuller Center on Housing.
Donations to the fund are still being accepted. All donations to the Team Western Kentucky Tornado Relief Fund are tax-deductible and donors will receive a receipt for tax purposes after donating.
Flash Flood Damage in Cumberland County
Heavy rainfall was reported last night in the south-central counties of Adair, Barren, Clinton, Cumberland, Hart, Metcalfe, McCreary and Wayne. Flash floods have been reported in the Burkesville area of Cumberland County. Although several roads are damaged and some low-lying roads remain flooded, KYEM has indicated that creeks are receding, which the Governor says is a good sign.
A flash flood warning has been issued this morning for the Cumberland River at Burkesville. The Cumberland River is predicted to crest and cause minor floods.
Team Kentucky All-Stars
The Governor named his communications director, Crystal Staley, as this week's Team Kentucky All-Star. Staley oversees communications for the Governor's Office, as well as the executive branch's 12 cabinets. Last week, she was recognized as one of the 2022 Notable Women in Kentucky Politics and Government by the Kentucky Gazette. Gov. Beshear also wished her a happy early birthday.
"Crystal has worked in state government for 15 years and she is committed to making Kentucky a better place. She has worked day and night even while having a young family," Gov. Beshear said. "She is the hardest working, most dedicated team member and a good friend to everybody. Watching her and her team teaches me good lessons on leadership."