Heads to the governor If he signs it, or it is vetoed and the General Assembly overrides the veto, it will take effect immediately.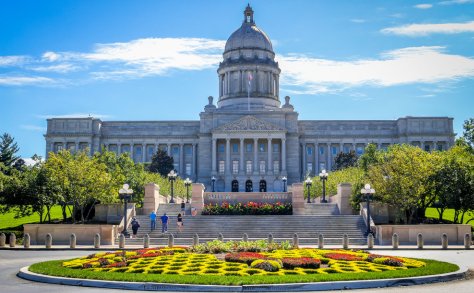 FRANKFORT, Ky. (KT) – The Kentucky House passed two pieces of COVID-19 legislation on Thursday, one ending the state of emergency, and another one keeping many entities from requesting vaccination status.
Although the General Assembly enacted legislation to end the emergency on April 14, when lawmakers adjourn, Senate Joint Resolution 150, sponsored by Sen Donald Douglas, R-Nicholasville, would end the state of emergency immediately, and terminate all executive orders and administrative regulations, issued due to the COVID-19 pandemic.
SJR 150 was presented on the House floor by Rep. Thomas Huff, R-Shepherdsville, who said, "I think after two years it's more than long overdue."
When asked what the benefit was of ending the State of Emergency early, Huff replied, "I would say back to normalcy would be a big benefit for anyone."
Rep. Cherylnn Stevenson, D-Lexington, told her colleagues, "COVID is very much still here. We do still have some needs that there are federal dollars helping us with, but there are some other provisions that come with the State of Emergency, and one of them is an influx of help where we need them in hospitals, especially with the nursing shortage."
Rep. Mark Hart, R-Falmouth, pointed out, "Emergency means a situation that needs to be mitigated immediately. After two years, the immediacy of this situation is over. So we as a society need to move forward and learn to live with it, like we do with the flu and other situations."
The measure was approved 75-20 and now heads to the governor. If he signs it, or it is vetoed and the General Assembly overrides the veto, it will take effect immediately.
The House also approved House Bill 28, sponsored by Rep. Savannah Maddox, R-Dry Ridge, which she said would accomplish four things.
"It would ban public entities from requiring employees to disclose their immunization status. It disallows public universities from requiring disclosure of immunization status, prohibit the issuance of any type of vaccine passport or any government mandate relating to a COVID-19 vaccine, and disallows public schools K-12 from requiring students to receive the COVID vaccine, based on parents' conscientious objections."
Rep. Jerry Miller, R-Eastwood, proposed a change exempting private non-profits from provisions of the bill, which was adopted.
The bill passed 71-22 and now heads to the Senate.