Week of October 15th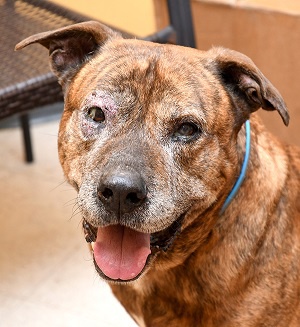 ​My name is "WINSTON".
I'm a gentleman through and through.
I'm a happy and steady guy.
I'm easy to please and am just looking for a home that will let me lounge in the sun.
I like to sleep stretched out, so don't expect me to just curl up in a small corner of your sofa as I'm a solid 79 lbs.
As I mentioned previously, I'm a gentleman. So, I do not make messes in my kennel, I walk well on leash, and I know the routine.
You'll probably notice the redness around my eye. My brindle coloring doesn't hide it well.
It turns out that I have dry eyes and the vet gave me some medicine to help clear up the irritation around my eyes.
I do appear to have mild cataracts, but I'm a 7- to 10-year-old Labrador Retriever/Plott Hound mix and that's pretty common for my age.
You will have to let me get acquainted with new dogs.
Because my vision can be a little fuzzy, I need to know they're not going to bother me.
My adoption fee is $25 plus the cost of my neuter and rabies vaccination. I have a $50 sponsorship that goes toward these fees.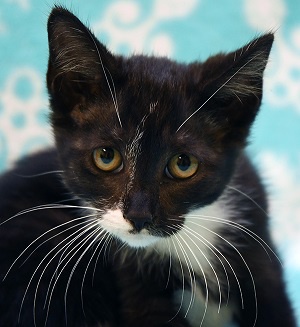 I'm "MISTY".
I'm a frisky KITTEN that loves to play.
I have a game I play. It's called "tickle my tummy".
Play it with me and watch what happens.
If you want to cuddle with me, try it after I eat. That's when I take time to relax.
I'm 7- to 8-months-old and am used to the routine here at the shelter.
I'm a laid back kitty who likes being around people and other pets.
So, I'm okay with a dog in the family, they just need to realize I'm the superior animal.
I keep my cage clean here at the shelter and plan to keep my new home clean too.
I'm a Tuxedo cat, but I have more black than white.
I have a friend named Charo. She's a cuddly kitty. It would be great if we could be adopted together.
But we're okay with going to separate homes too.
I'm $45 OFF my adoption and spay fee. Charo is too.
So if you adopt us both, that's $90 off.
~~~~~~~~~~~~~~~~~~~~~~~~~~~~~~~~~~~~~~~~~~~~~~~~~~~~~~~


Cats

and kittens

are $45 off their adoption and spay/neuter fees c

ourtesy of the shelter and the Jefferson County Humane Society. Cats who are already neutered or spayed are $45 and not part of the special.
~~~~~~~~~~~~~~~~~~~~~~~~~~~~~~~~~~~~~~~~~~~~~~~~~~~~~~~
The

shelter accepts both STEEL and ALUMINUM cans.

The

funds made with recycling go into our medical fund. Please rinse out

the

steel cans well (we don't want to encourage not-so-adoptable critters to hang out around

the

shelter) and place

the

m in a separate bag from

the

aluminum cans. Drop both types

of

cans (remember, in separate bags) in

the

large labeled bin that is on

the

east side

of

the

shelter - that's to your left when facing

the

shelter's front door.
The

shelter is part

of

the

Kroger rewards program. To participate, register your Kroger card at www.krogercommunityrewards.com and enter NPO number 63224.

Support

the

shelter every time you walk your dog through

the

Walk for a Dog cell phone

app available

at Google Play or

the

Apple App Store.

The

shelter is listed as

the

Madison-Jefferson Animal Shelter.