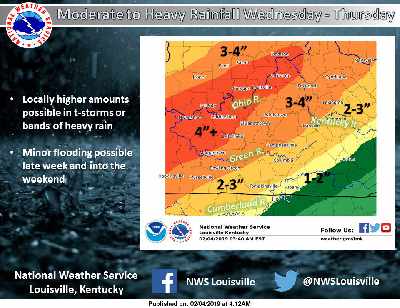 Four plus inches possible locally
Plenty of moisture will combine with multiple disturbances moving along a boundary over the Ohio Valley resulting in moderate to heavy rainfall over southern Indiana and central Kentucky early Wednesday through Thursday night. Widespread 2-4 inches of rain can be expected with locally higher amounts possible especially in heavier rain bands or thunderstorms.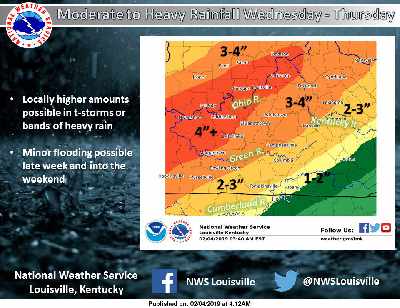 National weather service has the Madison, Trimble Co., Carroll Co. and Switzerland Co. areas in 4+ inches of rain.
This will result in water collecting in low lying and poor drainage areas and will lead to rises on streams.
Heavy rain will cause rises on area rivers, particularly the Ohio, Rough, Rolling Fork, Blue, and Green Rivers as well as Elkhorn Creek. Stay tuned for later forecasts for predicted river levels as mid-week approaches.
Also stay tuned for updates on rainfall amounts including the possible issuance of any Flood Watches.