Carroll County athletes who are part of Special Olympics Kentucky were honored at the Carrollton City Council Meeting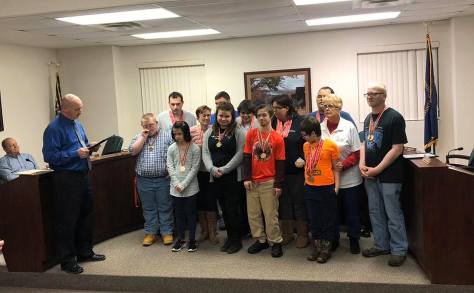 Photo Courtesy of Special Olympics Kentucky
(Carrollton, KY.) - Carroll County athletes who are part of Special Olympics Kentucky were honored at the Carrollton City Council meeting on February 10, for their success at the State Winter Games and at the State Bowling Tournament.
Mayor Robb Adams presented a proclamation to the group last night which had declared the week of February 10 through the 14 to be Special Olympics Week in Carrollton.
"I urge all citizens to honor the Carroll County Special Olympics athletes for their achievements," said Adams.
The athletes brought home 14 medals in the bowling tournament, 3 of which were Gold, and in the State Winter Games, the athletes brought home 28 medals which included 16 gold.