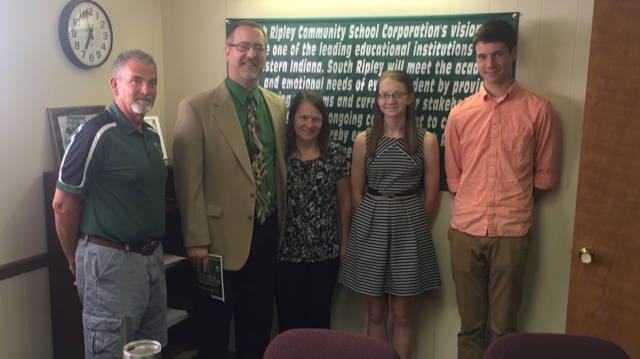 Ralston replaces Rod Hite who was hired as the new superintendent at Switzerland County.
VERSAILLES - The South Ripley Community School Corporation has officially announced its hiring of Joe Ralston as the new principal of South Ripley High School, beginning July 1, 2018. The decision was approved at the corporation's monthly school board meeting on Monday night.
Ralston replaces Rod Hite, who was hired on Monday night as the new superintendent of the Switzerland County School Corporation, and had previously served as South Ripley High School's guidance counselor for the past four years.
"We are very pleased that was Joe (Ralston) was interested into moving into the role of principal at SRHS," South Ripley Community School Corporation Superintendent Rob Moorhead said in a press release. "He has done a tremendous job in the guidance office and brings a wealth of administrative experience into his new role. We look forward to Joe's leadership at the high school as we travel the path of continuous improvement. I believe that great things are in store for SRHS."
According to the press release, Ralston spent seven years as the athletic director and assistant principal at Southwestern Shelby Junior-Senior High School and had also served as the school's guidance counselor for a year. He was a long-time social studies teacher before taking on administrative roles, teaching for five years at North Decatur High School, one year at Avon High School and one year at Indianapolis Christian High School, which is where his teaching career started in 1994.
Ralston also spent the 2001-2002 school year at South Ripley High School as a social studies teacher before moving closer to help care for his mother and accepting the North Decatur teaching position. He was a member of North' baseball coaching staff and was a class sponsor along with serving on multiple committees.
The 1994 Indiana University graduate received a Master's Degree in Supervision and Administration from Ball State University in 2006 and is a certified Indiana School Safety Specialist. He and his wife, Jean, live in Batesville with their three children, Tyler (19), Cory (17) and Ava (15).