The ferry has received final approval from the U.S. Coast Guard, according to owner Rising Star Casino.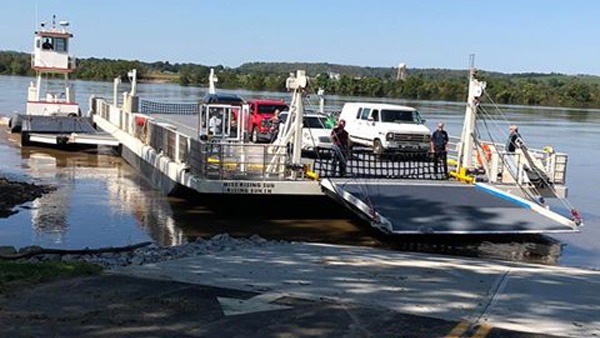 Justin Thomas submitted this photo after being among the first to cross the Ohio River on the MS Lucky Lady ferry boat.
(Rising Sun, Ind.) – It's taken longer than anybody had hoped, but the Rising Sun-to-Rabbit Hash ferry is finally up and running.
The ferry owned and operated by Rising Star Casino began offering its first rides to the public on Saturday as it recently received final approval from the U.S. Coast Guard. Local resident Justin Thomas was among those on the first trip across the 2,000-foot wide Ohio River.
More than 150 vehicles took advantage of the ferry on its first day. It is the first time a ferry has carried vehicles across the river at Rising Sun since 1945, saving motorists the 50-minute drive from Rising Sun to Rabbit Hash.
Rising Star Casino says its new ferry, the MS Lucky Lady, offered free rides Saturday and Sunday. It is operating from noon until 7:00 p.m. each day during this week's trial period.
When normal operation begins, the ferry will charge $5 for a one-way trip and $8 for a round trip. Rates vary for motorcycles, RVs, and pedestrians. Casino customers will be reimbursed for their fare with qualifying play.
The casino is hoping the ferry will help bring more customers from northern Kentucky to its riverboat, thus improving revenues. Rising Star is sandwiched between two other southeastern Indiana riverboat casinos in Lawrenceburg and Switzerland County.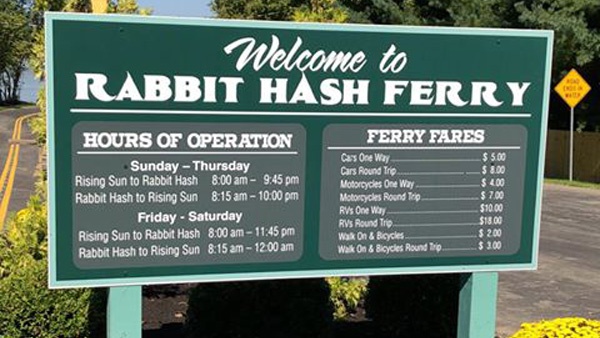 Photo submitted by Justin Thomas.
RELATED STORIES:
Rising Sun And Rabbit Hash, Meet The MS Lucky Lady
Rising Star Casino's Ohio River Ferry To Be Christened Thursday
Voting Underway For Naming The Rising Sun-To-Rabbit Hash Ferry
Have A Name Idea For The Rising Sun To Rabbit Hash Ferry?