ISP Troopers served a warrant at a home in Moores Hill on April 15.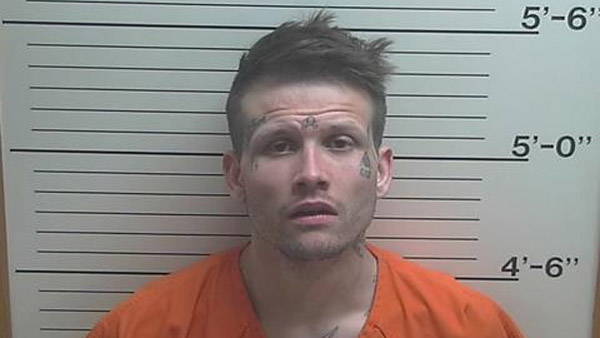 Dusty R. Owens (Schalk's mugshot was not available). Photo by the Dearborn County Sheriff's Office.
(Moores Hill, Ind.) – Two people have been arrested on drug charges after a warrant was served at a home in Moores Hill earlier this month.
25-year-old Dusty R. Owens and 26-year-old Tessa D. Schalk were taking into custody on Thursday, April 15, and charged with Dealing with Methamphetamine and Possession of Methamphetamine.
Troopers with Indiana State Police-Versailles Post along with the Moores Hill Town Marshal responded to a home on Mail Street in an attempt to serve a felony warrant on Owens.
When law enforcement arrived at the residence, Owens allegedly fled the home on foot but was quickly apprehended by a Versailles Trooper and K9 Krieger.
During the arrest, Owens was allegedly found in possession of suspected methamphetamine and a hypodermic syringe.
Owens was treated at the scene for minor injuries sustained when Krieger bit him while fleeing.
After taking Owens into custody, troopers applied for and received a search warrant for the residence. Troopers say they located additional suspected methamphetamine, marijuana, drug paraphernalia, and other evidence of dealing methamphetamine. They also located a second occupant of the home, Tessa Schalk.
Owens and Schalk were both transported to Dearborn County Jail. Owens remains in custody as of Tuesday.
He is facing additional charges of Possession of Marijuana, Possession of a Syringe, and Resisting Law Enforcement.