Basketball and Swimming
HIGH SCHOOL BOYS BASKETBALL:
2A #1 Southwestern defeats South Ripley 68-39. Tyler Kramer 24 for the Rebels.
Madison over Seymour 70-40. Cooper Yancey 28 for the Cubs.
Switzerland Co. defeats Scottsburg 52-51. Breeck 15 for the Pacers
Christian Academy of Indiana over Shawe 82-36
Trimble Co. over Dayton 77-53. Reece Webster 17 for the Raiders.
IHSAA GIRLS BASKETBALL SECTIONAL:
@ Lawrenceburg: Madison vs Franklin Co. 7:30
@ South Decatur: Switzerland Co. vs Milan 6:00
Southwestern vs South Ripley 7:30
@ Edinburg: Shawe vs West Washington 7:30
IHSAA GIRLS SWIMMING SECTIONAL:
@ Floyd Central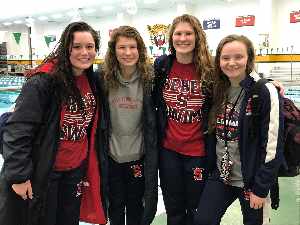 This is the 200 Free Relay that broke the Southwestern school record tonight at the Floyd Central Sectional.
Trinity Stoner, Julia Worcester, Kassey Worcester, and Belle Crawford broke the old record 1:52.24 with a 1:49.63. The former record was set in 2011 by Kristin Griffin, Jordan Worcester, Saige Sentell, and Susie Philipp.

Kassey Worcester also broke her own record of 2:27.69 in the 200 IM with a 2:25.40. She then went on to break the 100 Fly record held by Susie Philipp since 2011 with a 1:04.71.