Hanover basketball sweeps Franklin
Madison School Board voted 5-0 to approve a $1.3 million bond to convert the football stadium to field turf. Protect is hopeful of being completed by August. 1. The School Board also votes 5-0 to withdraw Madison from the Hoosier Hills Conference. The move will happen after the 2020-21 athletic season. The Cubs are not moving to another conference. Instead they will be independent. And also in a 5-0 they will name the baseball field at the junior high, "Mike Modisett Field."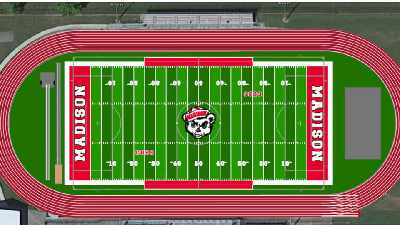 HANOVER COLLEGE BASKETBALL:
The women's team clinched a first round bye in the HCAC post-season tournament as they defeat Franklin College 70-64. Alexis Nall 26 and former Madison Lady Cub, Katie Hartman 15 for the Panthers. With five games left in the regular season they remain one game back of Transylvania who they play at home on February 19th.
The men's team moved into a three team tie for first in the HCAC as they defeat Franklin College for the second time this season 74-53. Kevin Williams 19, Mark Albers 12 and Conner Washburn with 11. Panthers now tied with Transylvania and Franklin. Hanover takes on Transy on the road on February 19th.
HIGH SCHOOL GIRLS BASKETBALL:
Trimble County's Shelby Wilcoxson scored her 1,000 point of her career as the Lady Raiders defeat St. Francis 64-39. Wilcoxson 20, Emma Ginn 11 and Danielle Craig 10 for Trimble Co.
THURSDAY NIGHT BOYS BASKETBALL:
Shawe's Ethan Stuart need only one point to top 1,000 points in his career and should get it at home as the Hilltoppers host Christian Academy of Indiana.
Southwestern's Foster Mefford also looking to join the 1,000 point club as the Rebels junior needs only 17 points for that mark and Mefford could do it at home against South Ripley. You can catch that contest starting at 7:15 with Larry & Rob on 95.3 WIKI.
Madison will try and end a four game losing streak as they travel to Seymour.
Also, Scottsburg at Switzerland Co.and Carroll Co. at Williamstown.