TRIMBLE CO GIRLS COACH RESIGNS ALSO SPORTS SCORES FROM WEEKEND
TRIMBLE COUNTY GIRLS COACH RESIGNS
Kerrie Stewart has officially resigned as head girls basketball coach at Trimble Co.. She had a fantastic 22-year career, winning 3 District titles, 1 Regional and taking TC to the All A Final Four.
FRIDAY SPORTS RESULTS
SOFTBALL: Switzerland Co. rolls over Jac-Cen-Del 14-1 in softball. Lily Sparks 3-4, HR, 3B, 5RBI, 3R Bri Stow 3-4, 2B, 3RBI Kayla Cutter 2-3, 3B, RBI, 2R Jessie Duvall 2-2, 4R Maddie Duvall 1-3, 2RBI, 2R Lily Sparks (W) 5IP, 1ER, 5H, 11K, 0BB Switzerland now 2-2 (1-1 ORVC).
Carroll County softball falls 14-2 to Boone County. Tori Brandon 2-2, R Bailey Stewart 1-2, 2B Layne Huesman 1-2, 2B Madi Groves (L) 0.2IP, 11R, 2ER, 5H, 0K, 3BB Carroll is now 1-5.
Madison softball beats Batesville 6-5. Casey Dyer 3-4, 2B, RBI, 2R Cam Mann 2-3, 2B, RBI, 2R Ava Armbrecht 2-3, 2B, 3RBI Molly Armbrecht 1-2, R Kallie Eder 1-4, RBI, R Ava Armbrecht (W) 7IP, 3ER, 4H, 7K, 1BB Cubs now 4-6 in the season.
Southwestern softball beats Clarksville 13-2. Ashley Fulton 2-4, 2B, 2RBI, R Chloey Leach 2-3, 3R Riley Scroggins 2-4, 2RBI, 3R Breona Brewer 1-3, 3RBI, R Jenny Tankersley 1-2, 2RBI Morgan Mahoney 1-4, R Ashley Fulton (W) 5IP, 1ER, 3H, 5K, 3BB Rebels now 4-4.
BASEBALL: Carroll Co. baseball falls 9-3 to Walton-Verona in the All A 8th Region Championship. Andrew Shaw 2-4, R Zayn Satchwell 2-3, R Luke Staley 1-4, 2B, RBI Logan Gilbert 1-3 Landon Isaacs (L) 4.1 IP, 5ER, 9H, 3K, 1BB Carroll is now 6-6.
Trimble Co. baseball loses a 14-13 shootout to Lloyd. JT Wilcoxson 3-4, 2 2B, 2RBI Jessup Smith 3-4, 2RBI Ethan Horn 2-5, RBI, 2R Dylan Penick 2-3, 2R Spencer Stark 2-4 Dalton Penick 1-2, RBI Charlie Liter 1-2, RBI, 2R Charlie Liter (L) 0.1 IP, 4ER, 3H, 1K, 2BB Trimble now 2-6
3A No. 9 Madison falls 1-0 to Floyd Central in an unbelievable pitchers' duel. Dylan Hogan (W) 7IP, 0R, 0H, 8K, 3BB Ben Orrill (L) 6IP, 0ER, 1H, 4K, 3BB Madison now 4-3 in the season.
SATURDAY SPORTS RESULTS
BASEBALL: Trimble Co. baseball beats Atherton 5-2. Dalton Penick 2-3, R Spencer Stark 1-1, RBI JT Wilcoxson 1-2, R Dalton Penick (W) 7IP, 2ER, 2H, 15K, 4BB Raiders now 3-6-1.
3A No. 9 Madison sweeps a doubleheader from Lanesville. Game 1 (W12-2) Colin Yancey 2 2B, RBI, 3R Clint Hearne 2-4, 2B, 3RBI Myles Barnes 2-2, RBI Liam Murphy 2-3 Drew Forner 2B, RBI Ben Orrill 2B, RBI Drew Forner (W) 1 IP, 0R, 1H, 1K
Game 2 (W13-2) Ben Orrill 3-4, 3B, 2RBI Zander Vonch 3-5, RBI Craig Demaree 1-3, 2RBI Clint Hearne (W) 3IP, 1R, 4H, 5K Madison is now 6-3 on the season.
Switzerland baseball falls 8-7 in 9 innings to Jac-Cen-Del. Jackson Sparks 3-6, 2 2B, 2RBI Bryce Turner 1-1, RBI, 2R Kaleb Koons 1-6, RBI, R Austin Bosaw 1-5, RBI Roman Hite (L) 4.2IP, 5ER, 7H, 1K Switzerland now 1-3 (1-1 ORVC)
SOFTBALL: Madison softball beats Corydon 6-5 on Cam Mann's walkoff double that scored Keara Eder. Cam Mann 2-4, 2B, 2RBI Keara Eder 2-4, 2R Molly Armbrecht 1-3, RBI Ava Armbrecht (W) 2IP, 0R, 3H, 0K, 1BB Madison now 5-6.
Trimble beats Southwestern 22-13 in softball. Kaylee Payton 4-5, HR, 2B Maddie Nixon 3-5, 4RBI Shelby Wright 3-4, 3B Jaelyn Holbrook 3-6, 3B Emma Ginn 2-4, HR, 4RBI McKenna Ritchie 2-5, HR, 4RBI Lauren Haney 2B McKenna Ritchie (W) 7IP, 5ER, 8K TC now 6-6.
Trimble Co. beats South Central 16-1 in the 2nd game. Jaelyn Holbrook 2-3, HR, 5RBI Hannah Chilton 2-2, 2B, 3B, 2RBI Shelby Wright 2-4, 3B, RBI Kaylee Payton HR, 3RBI Maddie Nixon 3B, 2RBI Hannah Chilton (W) 3IP, 1ER, 3H, 3K Raiders now 7-6.
Southwestern softball whips South Central 21-3 in the 3rd game. Ashley Fulton 2-5, HR, 4RBI Morgan Mahoney 2 2B, 4RBI Trinity McLain 2-3, 5R Nataley Morrison 1-3, RBI, 3R Emily Hatton 1-1, 3RBI Ashley Fulton (W) 5IP, 0ER, 4H, 7K Southwestern now 5-5.
TRACK AND FIELD: Madison's girls track & field team wins the Madison Invitational. Team scores: Madison 162 Silver Creek 142 South Dearborn 99 Austin 58 Scottsburg 48 Shawe 48 Southwestern 38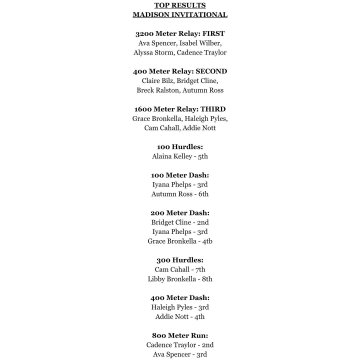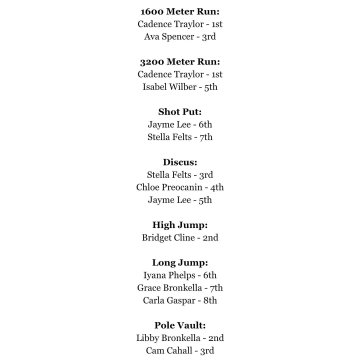 Shawe participated in the Madison Invitational this past Saturday
Calli Alderman placed 1st in the 800 and 7th in the 3200
Cora Wieczorek placed1st in the Shot Put and 2nd in the Discus
Emmaline Leatherman placed 1st in the High Jump and 2nd in the Long Jump
Noah Guetig tied for 5th in the High Jump, 7th in the 110 hurdles and 8th in the 300 hurdles
Wyatt Lundergan placed 5th in the Long Jump
Sam Fewell placed 4th in the 1600 and 6th in the 800
Shawe travels to Trinity Luthern and Crotherville this week!
Madison up to No. 8 in this week's Class 3A baseball poll.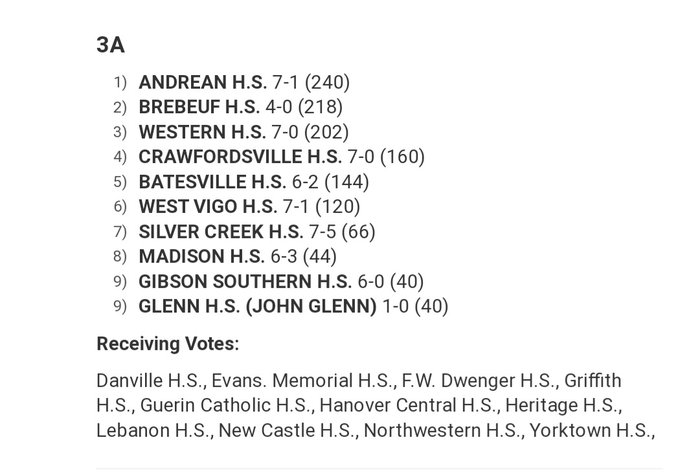 TENNIS:
Match results at the Paoli Invite (Paoli High School)
Finished 3rd overall for the invite.
1 singles:
Match #1 v. Tell City: Anna Bluemm (11) v. Ankita Kashyab (12): 6-4, 6-3 (win)
Match #2 v. Paoli: Anna Bluemm (11) v. Maddie Warren (10): 0-6, 0-6 (lost)
2 singles:
Match #1 v. Paoli: Taylor Harsin (11) v. Rylie Atkins (12): 1-6, 1-6 (lost)
Match #2 v. Tell City: Taylor Harsin (11) v. Chloe Whalen (11): 6-1, 6-1 (win)
3 singles:
Match #1 v. Barr Reeve: Trinity Stoner (12) v. Claire Harrison (10): 3-6, 2-6 (lost)
Match #2 v. Tell City: Claire Slygh (10) v. Amara Combs (10): 6-4, 6-4 (win)
1 doubles:
Match #1 v. Barr Reeve: Paige Sentey (12)/Erin Burkhardt (11) v. Sydney Swartzentruber (11)/Dylan Decoursey (11): 1-6, 0-6 (lost)
Match #2 v. Tell City: Paige Sentey (12)/Erin Burkhardt (11) v. Anna Armstrong (10) / Niccole Bailey (11): 6-1, 6-0 (win)
2 doubles:
Match #1 v. Tell City: Hailey Jenkins (12)/Addison Mundt (12) v. Tori Henderson (10)/Mary Hollinden (12): 6-1, 6-0 (win)
Match #2 v. Paoli: Hailey Jenkins (12)/Addison Mundt (12) v. Chelsea Deweese (12)/Micaela MacDonald(10): 0-6, 0-6 (lost)