96.5%, have decided to keep masking mandatory for in-person classes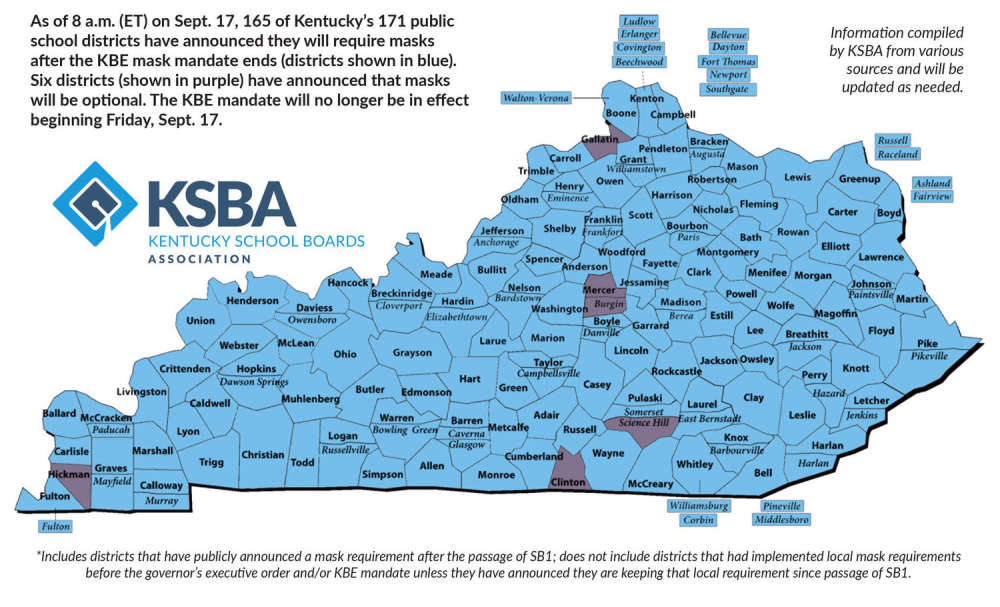 (KBE)
FRANKFORT, Ky. (KT) – With legislation that put the decision in the hands of local school districts, the vast majority of Kentucky's public school districts will continue to have mandatory mask usage for all students, staff and visitors, according to the Kentucky School Boards Association.
Friday was the day that Gov. Andy Beshear's statewide mask mandate in schools expired, following passage of Senate Bill 1 by the General Assembly in the recent special session, which was vetoed by the governor and the veto overidden by both the House and Senate. One provision of the bill removed control of the issue from the governor's office and put the decision into the hands of local districts and superintendents, of whether mask usage would be mandatory or optional, to combat the COVID-19 pandemic.
A total of 165 of Kentucky's 171 public school districts, or 96.5%, have decided to keep masking mandatory for in-person classes, with the other six making it optional. Those six are the Clinton, Gallatin, Hickman and Mercer County schools, along with the Burgin and Science Hill Independent Schools, which are in Mercer and Pulaski County respectively.
Senate President Robert Stivers, R-Manchester, said the process worked, and lawmakers were right to turn the decision to local school officials. "Almost every school district has voted to mask. It's them who had the local dynamics to make this decision," he said.
Tom Haggard, a member of the Covington Board of Education which decided to keep masking mandatory said, "A big thank you to fellow school board members across the Commonwealth for stepping up and prioritizing public health, student and staff safety and in-person learning."
Interestingly, Clinton County, one of the six mask optional districts, is the only one of Kentucky's 120 counties that was not in the red as of Thursday afternoon, meaning that its incidence rate of COVID-19 was less than 25 cases per 100,000 population. Instead, Clinton County's rate was around half of that, at 12.6 per 100,000 population rate as of Thursday afternoon.