The annual grants are made possible by the membership contributions of the Women's Giving Circle.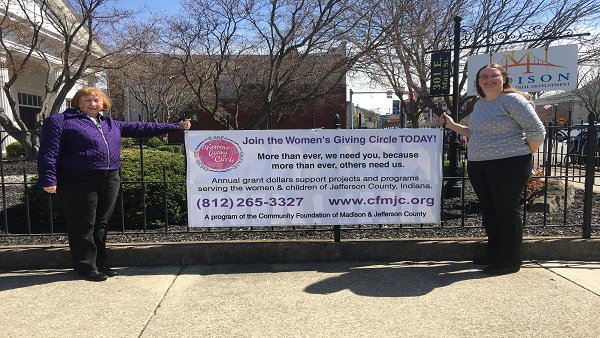 Photo Provided. PHOTO OF (FROM LEFT) WGCJC CHAIR DONNA WEHNER AND CFMJC MARKETING & DONOR RELATIONS MANAGER KELLEY HOAGLAND HANGING THE WGCJC RECRUITMENT BANNER ON THE FENCE OF THE MADISON AREA CHAMBER OF COMMERCE AT MAIN AND JEFFERSON STREETS IN DOWNTOWN MADISON.
(Madison, Ind.) – The Women's Giving Circle of Jefferson County (WGCJC) is currently holding its annual membership drive. All women in Jefferson County are welcome and invited to join.
The WGCJC was formed in 2012 as a community of philanthropic-minded women of all ages, backgrounds, and means who combine their financial strength to make a positive change for the women and children throughout Jefferson County.
"Even with facing the COVID-19 pandemic and uncertain economic times in 2020, the membership of the Women's Giving Circle has been able to continue providing financial assistance to organizations serving the women and children of our community," said WGCJC Membership Chair Lynn Maricle.
The WGCJC will be holding an Open House event on Tuesday, April 13 from 4:00 to 6:00 pm. At the First Christian Church, 512 West Main Street, downtown Madison. Potential, current, and past members are encouraged to attend and learn more about the WGCJC, become a member and view displays from the current 2020 grant cycle applicants.
Since the Circle's creation in 2012, over $150,000 has been granted to projects and programs that serve women and children in Jefferson County. Priority funding categories include: Education, Economic Empowerment, Physical and Mental Health, and Violence and Crime Prevention. The annual grants are made possible by the membership contributions of the Women's Giving Circle.
Annual memberships (January 1 to December 31 of the calendar year) to the Women's Giving Circle are open to women of all ages and only require a $100 tax-deductible contribution. Junior memberships are $50 and open to girls ages 18 and under. Of the $100 annual donation, $75 goes in a fund for immediate granting, and $25 is placed into the permanent endowment fund for future granting. The junior membership is split $25/$25.
Assets of the Women's Giving Circle are held and maintained at the Community Foundation of Madison and Jefferson County (CFMJC). Established in 1991 by a group of local volunteers, CFMJC fulfills the mission of building a strong, vibrant community by helping donors provide perpetual funding for the people, projects, and passions of Jefferson County.
For more information about the Women's Giving Circle or to join, visit https://cfmjc.org/wgc, contact Julie Wells at 812- 274-0945, or email womensgivingcircle@cfmjc.org