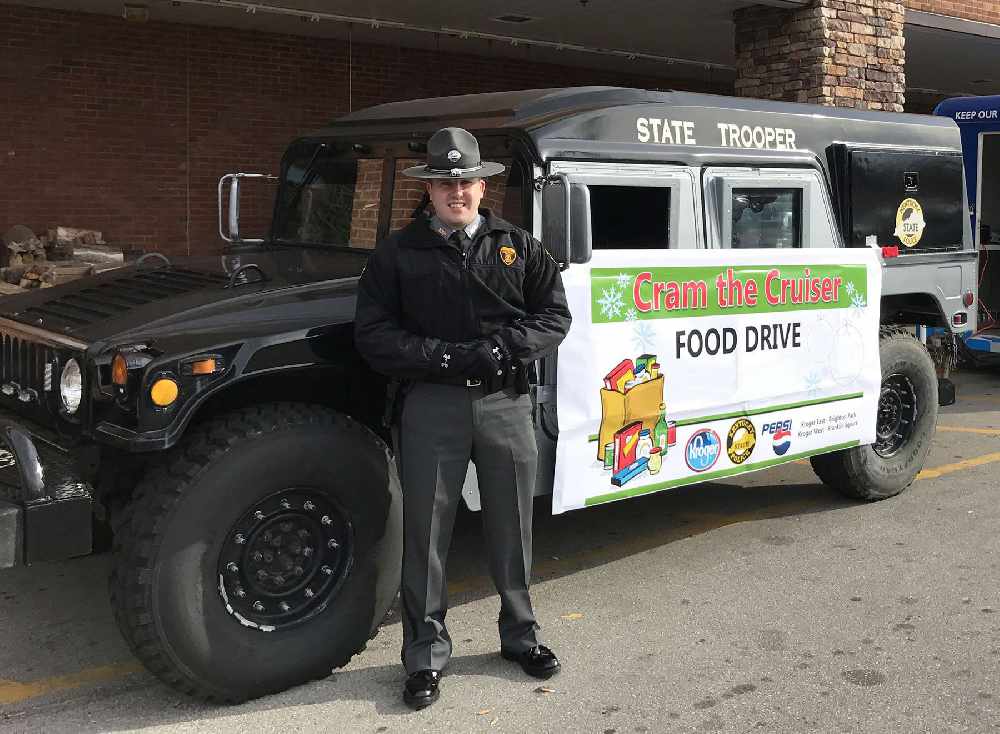 "Cram The Cruiser"
The Kentucky State Police will begin accepting donations for their ninth annual "Cram The Cruiser" holiday food drive on Nov. 21. Designed to provide non-perishable food items for families in need throughout the Commonwealth, the campaign will continue through Dec.10.
"Hunger is an urban, suburban and rural problem," says KSP spokesperson Sgt. Josh Lawson. "There is no area of the state where it does not exist. Through this program, we have an opportunity to make a significant impact on the lives of our neighbors and participate in the spirit of the season."
Collection sites for donations have been established at all of KSP's 16 posts and six Commercial Vehicle Enforcement region offices throughout the state as well as the agency's headquarters in Frankfort. Visit the KSP website at kentuckystatepolice.org for a listing of the locations.
KSP is also teaming up with Kroger and Pepsi for special collection events on Dec. 1 from 10:00 a.m. to 3:00 p.m. at designated Kroger stores throughout the state. The locations include:
302 Brighton Park in Frankfort;
300 Trademore Center in Morehead;
890 Richmond Plaza in Richmond;
1650 Bryan Station Road in Lexington;
1265 Goss Ave. in Louisville;
808 N. 12th St. in Murray;
1670 Starlight Drive in Owensboro;
1019 Cumberland Falls Highway in Corbin;
181 S. Highway 127 in Russell Springs;
2835 S. Highway 27 in Somerset;
106 Marketplace Circle in Georgetown and
311 Boone Station Road* in Shelbyville (*11 a.m. to 3 p.m.).
Suggested donations include non-expired canned fruit and vegetables, canned meat, macaroni and cheese, cereal, peanut butter, jelly, canned soups, chili or spaghetti sauce, brownie and cake mixes, coffee, water, powdered milk and juices.
The food will be distributed to local shelters, churches or other organizations in the areas where they are collected says Lawson.
"The holidays are a time when people come together to support one another. Last year, 419,507 pounds of food were donated from individuals, businesses, school groups, social clubs, scout troops and civic organizations throughout the state," he notes. "Feeding our neighbors is a noble cause, but it takes a team effort. Together we can take a stand against hunger and help make the holidays bright for families in need this year."