Week of January 14th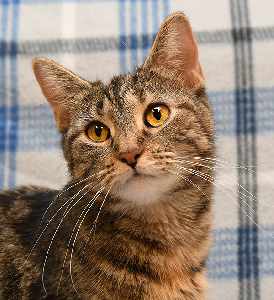 I'm "HOLLY",
I am a very friendly gal and I love to cuddle.
I'll probably greet you in the front lobby when you visit the shelter.
They let me wander around the lobby because I'm MUCH happier out of my cage!
I got depressed when I was in a cage and wouldn't eat.
I'm what's called a Tabico. I have brown Tabby stripes with orange Calico patches mixed in.
I don't mind dogs as long as they're not too energetic.
However, they should be prepared for me to stalk them. It's a game I like to play.
I'm hoping you will buy me lickable cat treats.
Ask the staff to show you what they are or look it up on the Internet. They're called Delectables.
I'm only 1-year-old and may grow a bit since I'm lean.
I'm $45 OFF my adoption and spay fee!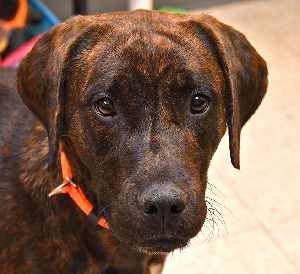 My name is "MARMEE".
I'm a sweetheart who is looking for a family to love.
Please don't overlook me since I tend to blend in when inside my kennel.
Take me out and you'll see my beautiful, dark-coffee brindle coat.
Sometimes I bark to get your attention and I do have a hound bark since I'm a Plott Hound.
I was found with my 4 pups who have been adopted.
I miss them and am being very quiet right now. Truthfully, I'm a bit depressed as I enjoyed having a family.
While they were here I would actually try to talk to the staff. And I literally cried when my pups were put in a different kennel.
So, I think you'll find that I'm an expressive gal when I have a family again.
I'm good with other dogs. Cats make me nervous though.
It would be best to either not have cats in my new family or a family willing to give me lots of time & training to become used to them.
I'm not used to being on a leash, but if you take it slow and encourage me I'll follow you.
I'm 3- to 5-years-old and a gentle 72 lbs.
Can you guess why my name is Marmee? I'll give you a hint: my puppies were Jo, Meg, Beth, and Amy.
I'm SPAYED and up-to-date on vaccinations, so I'm just $55 to adopt.