Week of February 11th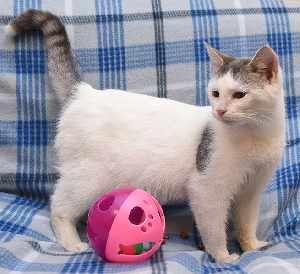 I'm "LESLEY",
I am a sweet and calm gal!
I will snuggle with you when you come to visit me.
I love sleeping in my cubby inside my cage.
That's a little box where I can curl up and call it my own.
I look forward to a home with lots of nooks and crannies I can curl up in.
And of course, curling up with you too.
I am the ideal cat for someone looking for an indoor only friend!
I'm 2- to 3-years-old and am mostly white with a few distinctive gray Tabby patches, including my tail.
I'm $65 OFF my adoption and spay fee. That's an extra $20 off from an individual sponsor.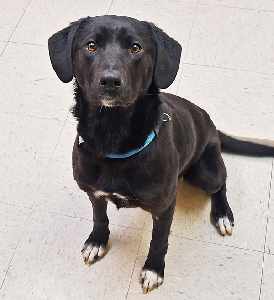 My name is "SUGAR".
I'm a sweet & friendly girl.
I also have a lot of energy and will need lots of exercise, walks, or playtime.
Adult Labs are really just big puppies and I'm a 2- to 3-year-old Labrador Retriever mix.
I'm a nice medium-size at 41 lbs and am mostly black with a white goatee, a white chest patch, and white tips on my toes.
I seem to like both cats and other dogs.
However, the staff has found that I resource guard and they are working with me on that.
That means I don't like anyone near my food or toys.
It's something that started here at the shelter, so hopefully it will be easy to correct when I'm home.
Ask the staff for updates and details on how to manage it and work with me to correct it.
I was found with Spice, who is also available for adoption.
I'm $30 off my adoption & spay fees to help me get a home.
Being at the shelter in the winter is no fun. I want a cozy home and family to love.