Christian Stewart, of Madison, has been sentenced to 42 years for burglary while armed with a deadly weapon.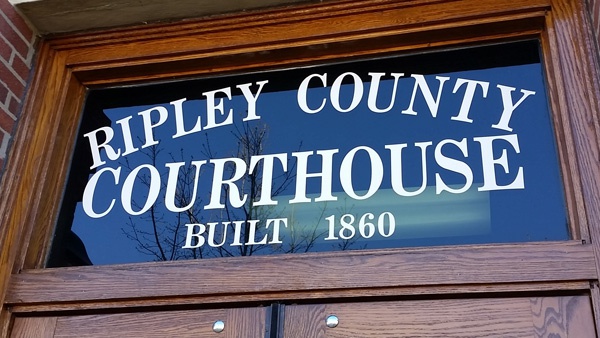 File photo
(Ripley County, Ind.) - On January 23, 2019, Christian Stewart, 23-years-old, of Madison, IN, was sentenced to the maximum, 42 years, by Judge Jeffrey Sharp after being found guilty as charged of Conspiracy to Commit Burglary While Armed with a Deadly Weapon, a Level 2 Felony, and Possession of a Firearm as a Serious Violent Felon, a Level 4 Felony following a four-day jury trial that ended on December 14, 2018.
Stewart's charges stem from two burglaries he, his younger brother, and his girlfriend completed in the Cross Plains, IN area during the morning and early afternoon of May 16, 2017. At both scenes, the burglars were extremely destructive and left the buildings completely ransacked.
During the Sentencing Hearing, Ripley County Chief Deputy Prosecutor Shane Tucker argued for the maximum sentence. Tucker urged the Court to take into consideration Stewart's numerous prior convictions and probation violations including a previous burglary in Jefferson County that he was on parole for while he committed these crimes. Additionally, he argued that Stewart's destructive behavior while being housed in the Ripley County Jail was an aggravating factor and a strong indicator that he needed to serve a lengthy prison sentence. While in jail, Stewart was involved in a number of physical altercations with other inmates and jail staff. During the hearing, a video of one of the physical altercations was introduced into evidence where Stewart and two other inmates brutally beat another inmate without any provocation resulting in multiple broken bones. Lastly, Tucker argued that the significant impact on the victims should be taken into consideration.
In a thorough pronouncement of sentence, Judge Sharp found that Stewart's extensive criminal history, significant impact on the victims, disruptive behavior in the jail, and commission of the offenses while he was still on parole from a previous burglary warranted the maximum sentence argued for by the State.
In reference to Stewart's sentence, Prosecutor Ric Hertel stated, "We are very pleased with the outcome of this case and hope that this sentence can help bring some closure to the victims of these terrible crimes. The Defendant's criminal conduct combined with his extensive criminal history and apprehensible behavior in the jail warranted the maximum sentence."
RELATED STORIES: