A suspect on a motorcycle sped away at up to 100 MPH.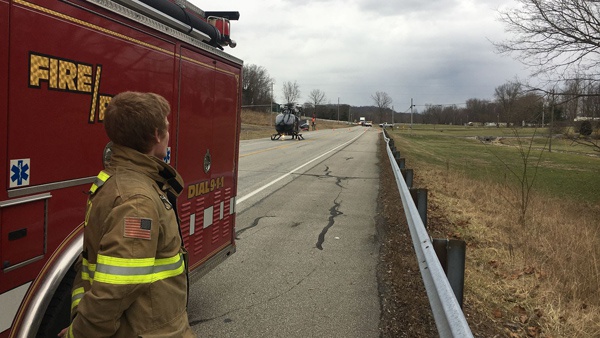 A medical helicopter on the scene of a motorcycle crash following a high-speed police chase on State Road 56 near Vevay on Monday, January 28. Photo courtesy Jeff-Craig Fire Department.
(Switzerland County, Ind.) – A high-speed police pursuit which began in Jefferson County ended when the motorcycle operator wrecked in Switzerland County.
The chase was initiated Monday in Madison. Heading eastbound on State Road 56, it entered into Switzerland County, according to the Switzerland County Sheriff's Office. The pursuit reached speeds of 100 MPH.
Upon entering the town of Vevay, the fleeing motorcyclist turned around and began fleeing westward on S.R. 56. It finally came to an end when the suspect wrecked the motorcycle approximately two miles west of Vevay.
A medical helicopter responded to the crash scene, presumable to transport the suspect to an area hospital.
Deputies with the Switzerland County Sheriff's Office did not have information about the suspect's name or medical condition. Any criminal charges are likely to be filed in Jefferson County, deputies said.