The PSA will premiere on Tuesday, April 6 at 8:00 p.m.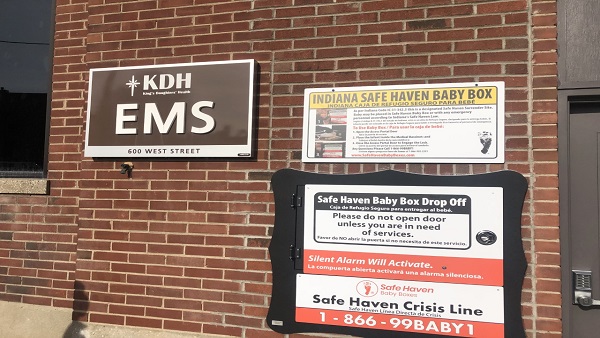 Safe Haven Baby Box Downtown Madison. Photo by Kacie Jackson 95.3 WIKI.
(Woodburn, Ind.) – April is known as Safe Haven Awareness Month in many different states.
Safe Haven Baby Boxes allows mothers to safely surrender their newborn infants without fear of prosecution.
Currently, there are 53 Safe Haven Baby Boxes throughout the state of Indiana, including locally at the King's Daughters' Health Medical building downtown.
In honor of Safe Haven Awareness Month, founder and CEO Monica Kelsey announced that Safe Haven Baby Boxes will be premiering a brand new, up-to-date PSA video, as well as new training videos.
The PSA will premiere on Tuesday, April 6 at 8:00 p.m. EST, on their YouTube Channel.
Viewers will be able to post questions and comments live during the broadcast and have them answered. Along with the PSA, a training and education video has been created for Schools to utilize to help spread the word to students. If a school is interested in obtaining the free training video, please reach out to Safe Haven Baby Box by email: shbb@safehavenbabyboxes.com with their contact information.
According to State Rep. Randy Frye (R-Greensburg), Safe Haven Baby Box legislation is being heard at the General Assembly. House Bill 2031 would allow for a Safe Haven Baby Box to be located in a volunteer fire station providing the fire station is located within the location of a full-time paid police department.
For more information on Safe Haven Baby Boxes, visit Safe Haven Baby Boxes - Baby Box Locations, Business, Drop Box | Safe Haven Baby Boxes (shbb.org).
Related Stories: