Sheet metal manufacturer has done business in Kentucky since 1965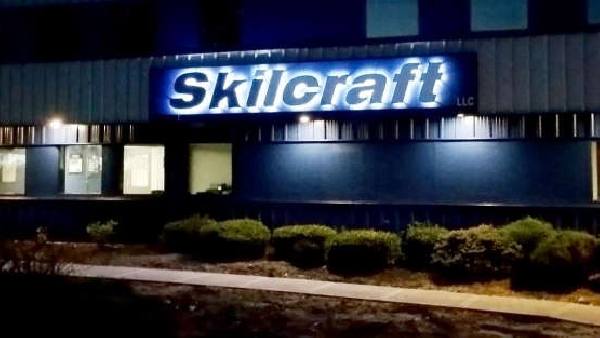 (PHOTO COURTESY OF SKILCRAFT WEBSITE)
FRANKFORT, Ky. (Aug. 10, 2022) – Today, Gov. Andy Beshear highlighted continued momentum of the state's metals and manufacturing sectors with the announcement of Skilcraft LLC's expansion in Boone County, an $8.4 million investment that will create 14 well-paying jobs for local residents.
"I am always excited to see companies expand their operations here in Kentucky, especially a company like Skilcraft, which has been serving the commonwealth and its workforce for nearly six decades," Gov. Beshear said. "Our state's economic momentum is not possible without the support and investments from companies like Skilcraft, and I cannot thank them enough for their continued belief in the commonwealth and what we have to offer. I look forward to the company's continued success."
The $8.4 million project will see Skilcraft's current operation in Hebron expand by over 22,000 square feet, bringing the total facility to over 54,000 square feet. The additional space will allow for increased production capacity and new equipment that will support production of fabricated parts and metal components for the aerospace industry. The company also will add 14 manufacturing jobs through the expansion, bringing their statewide employee total to 126, including an additional facility in Burlington.
"Skilcraft employees have built a reputation for 57 years of creating innovative solutions for our customers," said Skilcraft President John Zurborg. "Today, we're proud to work with world-changing innovators in the space, aviation and green energy industries. We are enthusiastic about our growth and the careers that will be created for our friends and neighbors in Northern Kentucky."
Skilcraft was founded in Burlington in 1965 and has been a producer of high-quality precision sheet metal components for over 57 years. In 2016, the company's services expanded to include the fabrication of components used in the aviation industry, primarily parts used in jet engines.
Today, Skilcraft is one of the leading sheet metal fabrication companies in the region, serving a broad range of industries including medical products, security and banking equipment, telecom and electronics, government and defense, Original Equipment Manufacturer (OEM) markets and aerospace manufacturing. The company was acquired by O'Neal Industries (ONI) in 2021, the nation's largest family-owned network of metals service centers and component and tube manufacturing businesses. Composed of nine leading brands and generating sales of $2.8 billion in 2021, ONI is based in Birmingham, Alabama, and has more than 70 specialized facilities throughout North America, Europe and Asia.
Skilcraft's investment builds on Kentucky's manufacturing prowess, which in 2021 saw companies announce 13,900 new jobs in the commonwealth behind $10.5 billion in new investments. Statewide, manufacturers operate nearly 5,000 facilities employing approximately 250,000 residents. Additionally, the expansion adds to the state's 230-plus metals-related facilities that employ approximately 25,000 Kentuckians. Last year, Kentucky's metals industry spurred approximately $975 million in planned investment and more than 1,700 expected new jobs for Kentucky residents.
Boone County Judge/Executive Gary Moore thanked Skilcraft for its continued investment in Northern Kentucky.
"For many years Skilcraft has been creating quality careers here in Boone County," said Judge Moore. "I am so pleased to learn they are once again expanding with 14 new high-skilled, advanced manufacturing positions."
Northern Kentucky Tri-ED CEO Lee Crume noted that Skilcraft serves advanced manufacturing OEMs in a number of industries ranging from medical products to aerospace, banking and telecommunications.
"Skilcraft is part of a thriving advanced manufacturing community in Northern Kentucky," Crume said. "We're glad they are expanding their capacity at their Hebron operation to increase production and service for the many industrial markets they serve."
Skilcraft's investment and planned job creation furthers recent economic momentum in the commonwealth, as the state builds back stronger from the effects of the pandemic.
To encourage investment and job growth in the community, the Kentucky Economic Development Finance Authority (KEDFA) on Thursday preliminarily approved a 10-year incentive agreement with the company under the Kentucky Business Investment program. The performance-based agreement can provide up to $350,000 in tax incentives based on the company's investment of $8.44 million and annual targets of:
Creation and maintenance of 14 Kentucky-resident, full-time jobs across 10 years; and

Paying an average hourly wage of $32 including benefits across those jobs.
By meeting its annual targets over the agreement term, the company can be eligible to keep a portion of the new tax revenue it generates. The company may claim eligible incentives against its income tax liability and/or wage assessments.
In addition, Skilcraft can receive resources from Kentucky's workforce service providers. Those include no-cost recruitment and job placement services, reduced-cost customized training and job-training incentives.
For more information on Skilcraft LLC, visit Skilcraft.com.
A detailed community profile for Boone County can be viewed here