Kentucky's statewide unemployment rate and employment levels are seasonally adjusted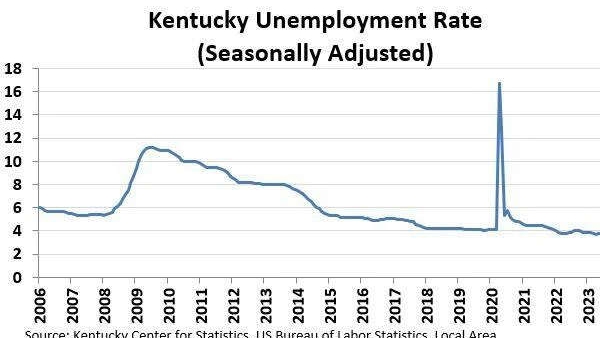 (Story Courtesy of Kentucky Today)
FRANKFORT, Ky. (KT) – Kentucky's seasonally adjusted preliminary August 2023 unemployment rate saw a slight uptick, according to the Kentucky Center for Statistics, an agency within the Kentucky Education and Labor Cabinet.
The preliminary August 2023 jobless rate in the state was 4%, which is up 0.1% from July 2023 and the same as August 2022.
The U.S. seasonally adjusted jobless rate for August 2023 was 3.8%, which was up 0.3% from July, according to the U.S. Department of Labor.
Kentucky's civilian labor force was 2,048,953 in August, a decrease of 3,843 individuals from July. The number of people employed in August fell by 6,679 to 1,966,987 while the number unemployed increased by 2,836 to 81,966.
"Kentucky's unemployment rate edged up in August as more people reported that they were looking for work" said University of Kentucky Center for Business and Economic Research Director Mike Clark. "August's estimates also indicate that fewer people held jobs and the number of people in the labor force dropped slightly. While the unemployment rate has increased in recent months, it still remains at low levels historically."
In a separate federal survey of business establishments that excludes jobs in agriculture and people who are self-employed, Kentucky's seasonally adjusted nonfarm employment increased by 8,300 jobs to 2,023,900 in August 2023 compared to July. Kentucky's nonfarm employment was up 51,200 jobs or 2.6% compared to August 2022.
"While the household survey suggests that the tight labor market we've experienced over the past couple of years might have eased in recent months, the employer survey for August indicates that businesses are still hiring," Clark noted. "Payroll employment has increased by 6,000 per month so far this year, which compares favorably to the average of 1,700 jobs per month added between 2010 and 2019."
Kentucky's statewide unemployment rate and employment levels are seasonally adjusted. Employment statistics undergo sharp fluctuations due to seasonal events, such as weather changes, harvests, holidays, and school openings and closings. Seasonal adjustments eliminate these influences and make it easier to observe statistical trends.