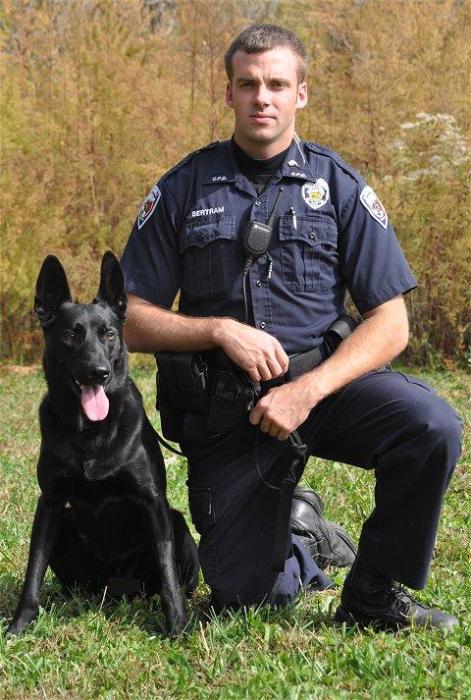 Visitation and service at Charlestown High School Gym
"We would like to thank the Charlestown Community and all the surrounding communities for the outpouring of support for our family and our beloved Ben. We would also like to thank everybody for respecting our privacy during this time."
"We would ask that everyone please keep our public safety personnel in your thoughts and prayers."
Benton Hurley "Ben" Bertram, 33 of Otisco, IN passed in the line of duty on Wednesday, December 12, 2018 as the result of a police pursuit vehicle crash near Lexington, Indiana.
Ben was born on June 22, 1985 in Louisville, KY the son of Howard L. "Luke" Bertram, Jr. and Diane Hurley Bertram.
Ben held the rank of Sergeant as a K9 Handler member of the Charlestown Police Department in Charlestown, Indiana, a member of the Marvin Walts Fraternal Order of Police Lodge 181, North American Police Work Dog Association and a member of 11-191 graduating class of the Indiana Law Enforcement Academy in Plainfield, IN.
Survivors include his parents, Luke and Diane Bertram of Otisco; sister, Lindsey Wolff (Tim) of Memphis, IN; niece, Lillian Wolff; uncle, Bo Bertram of Charlestown; aunts, Caroline Clemens (Russell) of Mt. Washington, KY and Dottie Spencer, (Stu) of Winter Park, CO; and Amanda Abbott of Charlestown; His current canine partner, Franco; his recently retired canine partner, KuBo and his family pet Hammer.
Life Celebration services will be held on Tuesday, December 18, 2018 at 11:00 AM at the Charlestown High School Gymnasium. Visitation will be held at the Charlestown High School on Monday, December 17, 2018 from 2:00 pm – 7:00 p.m. and Tuesday, from 9:00 to 11:00 a.m. until the time of service.
Expressions of sympathy may be made to the Ben Bertram Memorial Canine Fund in c/o The New Washington State Bank, 1059 Market Street in Charlestown, IN 47111.