Madison Consolidated High School
The third annual Youth Tailgate Party is coming this Friday.
The Youth Tailgate Party is an event that enables area youth to have a fun time and learn about organizations in the community that care about their physical and mental health. It is a free event open to all youth in Jefferson County.
The tailgate will run from 5:00 to 6:30 p.m. in the rear parking lot at Madison Consolidated High School.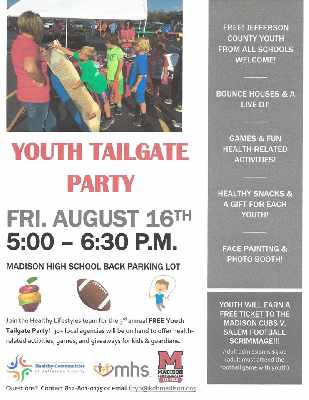 In addition to the many organizations attending, there will be a DJ, bouncy houses, giveaways, and food. Attendees can also receive a free ticket to the Madison football team scrimmage against Salem. An adult must accompany the youth to the scrimmage; an adult ticket is $5.00.
Organizations that wish to participate or persons with questions should contact Heather Foy at 812-801-0175 or email foyh@kdhmadison.org.